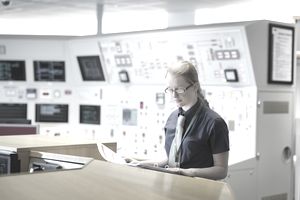 A nuclear operator controls the flow of electricity a nuclear power plant generates. Also known as a reactor operator (RO), nuclear power reactor operator or control room operator, he or she adjusts and maintains the plant's equipment, implements procedures that regulate the start-up or shut-down of the facility and responds to abnormalities and takes appropriate action. A senior reactor operator (SRO) supervises reactor operators.
Quick Facts
In 2014 nuclear operators earned a median annual salary of $82,500 and hourly wages of $39.66.
There were 8,000 people employed in this occupation in 2014.
The U.S. Bureau of Labor Statistics predicts there will be no employment growth in this field through 2024.
Roles and Responsibilities
What does a nuclear operator do each day? We turned to online ads on Indeed.com to answer this question. Here is what we learned:
"As directed, starts, stops, adjusts, tests and operates pumps, valves, switchgear, controls and other components of systems"
"Performs routine tests, incidental maintenance, electrical switching, and other activities necessary to ensure continuity of power generation"
"Places in operation, operates and removes from operation equipment using approved station procedures"
"Collects, sorts, segregates and packages radiological waste"
How to Become a Nuclear Operator
If you want to become a nuclear operator, you will need at least a high school diploma.
A college or vocational school degree can make you a more competitive job candidate. The U.S. Armed Forces, specifically the Navy, provides training in this area. Many employers use the Edison Electric Institute Power Operation Selection System (POSS) to help them select employees. It is a test battery that assesses whether an applicant has the aptitude to work in this occupation.
The United States Nuclear Regulatory Commission (NRC) licenses all nuclear operators.  To become licensed, you will need a combination of on-the-job training and technical education that will prepare to take the NRC Licensing exam. You must pass this exam before you can work independently. Until then, you can be employed as an equipment or auxiliary operator under the supervision of more experienced operators. Your license is specific to the plant that currently employs you. You will have to get a new license if you switch facilities. 
According to the NRC, there are two types of licenses: Reactor Operator (RO) and Senior Reactor Operator (SRO). To get an RO license, you need at least three years of experience working in a power plant. You must have spent at least six months working in the facility in which you are currently employed and for which you are seeking a license. If you have at least 18 months of experience as a non-licensed operator, a plant staff engineer or plant manager, you can apply for an SRO license. You don't need a college degree to apply for an SRO license if you have worked for at least one year as a licensed RO (United States Nuclear Regulatory Commission. Reactor Operators: What It Takes to Do This Very Important Job).
 To retain your license, you will have to pass a plant-operating exam every year and a physical exam every two years.
What Soft Skills Will Help You Succeed in This Career?
These are the personal qualities, known as soft skills, nuclear operators need:
Active Listening: You must be able to understand information others convey to you.
Concentration: The ability to focus on tasks is imperative.
Problem Solving: You must have the ability to identify problems.
Critical Thinking: After you identify a problem, this skill will allow you to evaluate possible solutions and choose the best one.
Reading Comprehension: You must be able to understand written documentation.
Monitoring: You need the ability to assess your own and others' performance, as well as monitor equipment.
The Truth About Being a Nuclear Operator
You don't need a college degree.
You will need to go through very rigorous training provided by the facility that employs you.
Since nuclear plants never close, operators work around the clock on 8 to 12 hour rotating shifts. When people work in rotating shifts, they don't work the same hours regularly. The upside of this type of scheduling is that it prevents workers from always working nights or only days. The downside is that it keeps them from getting used to a regular schedule.
What Will Employers Expect From You?
Here are some requirements from actual job announcements found on Indeed.com and, where noted, on company websites:
"Qualified candidates should be friendly and mature, able to multi-task and work well with others"
"Must be familiar with, and comply with all relevant health and safety requirements"
"Ability to obtain and maintain unescorted access to work at a nuclear power plant"
"Uses communication skills to exchange information" (Entergy)
"Must be able to write legibly" (PSEG)
Is This Occupation a Good Fit for You?
Occupations With Related Tasks and Activities
 
Description

Median Annual Wage

(2014)

Minimum Required Education/Training
Power Distributer or Dispatcher
Controls the flow of electricity to customers from a power generating plant
$78,240
H.S. or Equivalency Diploma
Machinist
Uses machines to produce parts and instruments
$39,980
H.S. or Equivalency Diploma
Stationary Engineer and Boiler Operator
Controls equipment including boilers and other stationary equipment in buildings
$56,330
H.S. or Equivalency Diploma
Sources:
Bureau of Labor Statistics, U.S. Department of Labor, Occupational Outlook Handbook, 2016-17 (visited March 7, 2016).
Employment and Training Administration, U.S. Department of Labor, O*NET Online (visited March 7, 2016).