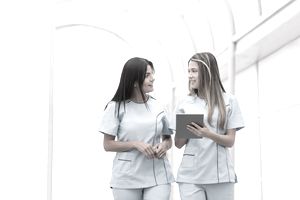 When you are seeking a new nursing position, it can be helpful to look at examples of nurse's resumes to help make yours an interview-winning document. Your resume is an important part of gaining the attention of the hiring manager. Make sure it presents you in the most positive and interesting way.
Research the different types of resumes people use, and pick one that will showcase your career in the most flattering way.
Review templates and resume examples to get you started, whether you are rebuilding your resume after a while, starting from scratch with a new resume or polishing up a relatively current document.
What to Highlight in Your Resume
Depending on your level of experience, your resume will highlight different things. When you have been working as a nurse for many years, you may want to include only the jobs you have held during the last 10 to 15 years. You will want to mention the specific experiences during your employment that most closely relate to the qualifications for the job you're applying for.
When you are just beginning your career as a nurse, it is perfectly acceptable to include experience you gained during your education: related coursework, volunteer positions you have held and internships, whether they were paid or unpaid.
Your resume should be tailored to the position you are seeking, to make the best impression on the hiring manager.
The more specifically you can relate your experience to the requirements of the open position, the better your chances of scoring an interview. You can also use your cover letter to call attention to details in your resume that make you an excellent candidate for the job.
In the first example, the applicant has recently graduated from school, so she has limited nursing experience.
She emphasizes the experience she does have and offers examples of times she went above and beyond in these positions, such as volunteering to tackle a difficult project.
Nurse Resume: Example #1
Jane Applicant
123 Main Street
Hudson, NY 12345
(111) (555-1111)
Jane.Applicant@email.com
Experience
Staff Assistant
Hudson Hospital, Hudson, NY
May 20XX – Present
Responsible for basic care of 20-bed unit.
Assist nursing staff with tasks including switching IV fluids, taking patient temperatures and blood pressure.
Preparation of rooms and equipment for patient intake.
Volunteered to assist in restructuring the nursing and staff schedule, a complex two-week project that has received praise from hospital administration.
Nursing Assistant
Saratoga Hospital, Saratoga Springs, NY
May 20XX - May 20XX
Responsible for patient intake and record keeping.
Distributed appropriate medication to patients upon checkout.
Assisted nurse practitioner with basic tasks such as taking patient's weight, height and temperature.
Nursing Intern
Saratoga Hospital, Saratoga Springs, NY
Summer 20XX
Shadowed professional physicians during their everyday duties.
Prepared for procedures including gathering necessary equipment and organizing patient charts.
Kept weekly log of experience.
Assisted with all other administrative duties assigned.
Education
Hunter College
New York, NY
May 20XX
Bachelor of Science, Nursing
Clara Barton High School
Brooklyn, NY
Pre-nursing program
Member, Young Professional Organization of Health Professions
In the following example, the applicant has several years of experience, and includes a resume profile to highlight his specific qualifications for the position.
Nurse Resume: Example #2
John Applicant
1001 Oak Street
Anytown, NY 12345
(111) (555-7777)
johnapplicant123@email.com
Registered Pediatric Nurse with over 15 years experience working in clinical and managerial capacities. Expert at coordinating care and continuing services, and the transition between inpatient and outpatient therapy.
Experience
Staff Supervisor
City Hospital, Anytown, NY
April 20XX – Present
Responsible for management of nursing staff in Pediatric unit including scheduling, hiring, and task assignment.
Supervise nursing staff in all aspects of patient care, including coordination of hospital services and discharge arrangements.
Oversee supplies and equipment procurement for department.
Head Pediatric Nurse
Family Clinic, Albany, NY
May 20XX - April 20XX
Responsible for scheduling nursing staff, oversaw maintenance of records of patient intake, HIPPA compliance and follow up programs.
Coordinated individualized care and developed protocols with staff physicians.
Oversaw daily patient care and quality of services.
Registered Nurse
City Women's Hospital, Highland, NY
August 200X- May 20XX
Responsible for intake and evaluation of patients.
General patient care and coordination of patient services.
Responsible for maintaining and filing patient records as needed.
Assisted with other administrative duties as needed.
Education
Columbia University
New York, NY
Master of Science, Nursing
Mount St. Mary's College
Newburgh, NY
Bachelor of Science, Nursing
Associations
PNCB Certified Pediatric Nurse
Society of Pediatric Nurses
New York Board of Nursing