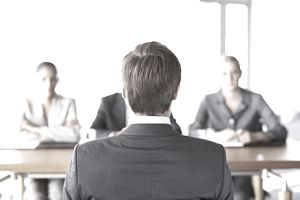 Panel interviews might seem intimidating because you have to meet with so many interviewers. However, they do not have to be scary.
Below is information on what a panel interview is, how to respond to a panel interview invitation, sample interview questions, and how to prepare for the interview. There is also an example of a panel interview invitation via email.
What is a Panel Interview?
A panel interview is one that is conducted by a group of two or more interviewers.
Sometimes you will meet with the interviewers separately, and other times you will meet with them as a group (panel). Sometimes there will even be multiple candidates interviewing at the same time.
Typically, each interviewer will ask you at least one question. If there are multiple job seekers, the interviewers might ask each job seeker one question at a time.
Here's information on how to have a successful panel interview.
Interviewers typically ask a mix of behavioral and situational questions, as well as questions about the candidate's personality and career goals. Below are some common panel interview questions.
Panel Interview Questions
How are you at handling tight deadlines for projects where there is minimal supervision?
Imagine that you are introducing a new policy to your co-workers or employees, and you are facing opposition. How would you handle it?
Describe a time when you were working on a team project and there was a conflict in the group. How did you handle the situation?
Tell us about an occasion when you had to deal with a difficult client. How did you prevent the situation from escalating?
What is the worst mistake you made in your previous position? How did you remediate this?
Give an example of a time when you had to explain a complex issue to someone who was unfamiliar with the topic.
How to Respond to a Panel Interview Invitation
When you receive an invitation to a panel interview, respond right away if they ask you to confirm your availability.
If you absolutely cannot attend, contact them immediately and request an alternative date and time. If you have any questions about the interview, call the office to ask. Be sure to use whatever contact number or email address they have given you.
When preparing for a panel interview, be sure to do some research on both the company and the individual interviewers. You should know their roles within the company, and have at least one question prepared for each of them.
The day or two before the interview, you may also want to confirm the job interview. Call the office to confirm the time and date. You may also want to confirm the location, who you will be meeting with, and how to get there.
Panel Interview Invitation Example
The following is an example of an email inviting a job seeker to an interview by a panel.
Subject Line of Email Message: Associate Director Interview
Email Message:
Dear Jane Doe,
Thank you for applying for the position of Associate Director of Simsbury Town Library.
We are pleased to invite you to participate in a panel interview.
The details are as follows:
Date: Tuesday, May 1
Time: 10 AM
Location: Simsbury Town Library
1 Park Drive, Simsbury, CT
This will be a panel interview conducted by:
William Morse, Director of Simsbury Town Library
Arlene Moriarty, Director of Human Resources
Mary Beth Larsson, President, Simsbury Town Library Board of Trustees
When you arrive, please ask at the front desk for Irene Trachtenberg, and I will escort you to our conference room for your panel interview. We anticipate that the interview will last 45 minutes.
Please call (860-555-2043) or email me to confirm your interview or to reschedule if necessary.
We look forward to meeting with you.
Sincerely,
Irene Trachtenberg
_______
Irene Trachtenberg
Assistant to the Director
Simsbury Town Library
1 Park Drive, Simsbury, CT
860-555-2043
itractenberg@simsbury-ct.gov
Read More: Interview Invitations | How to Prepare for an Interview | Job Interview Questions and Answers