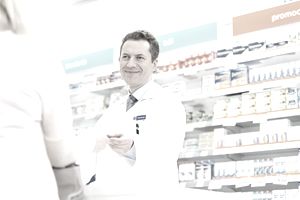 Are you interested in a career as a pharmacist? Review information on what pharmacists do, the education and training requirements, the employment outlook for pharmacists, and average salary information.
 Pharmacist Job Description
Pharmacists do much more than fill prescriptions according to the specifications of physicians. Pharmacists consult with clients about appropriate over the counter medications for common ailments.
 They instruct patients on how and when to take a prescribed medicine and inform them about side effects that they might experience from taking the medication. Pharmacists check for potentially dangerous drug interactions when patients are taking multiple medications.
As part of their role, pharmacists provide advice on healthy living. They give preventative vaccinations like flu and pneumonia shots, and advise patients on health topics, such as diet, exercise, and managing stress. With an aging population, pharmacists spend more time than in the past helping older clients to manage the delivery of a complex set of medications.
Education and Training Requirements
In order to get hired as a pharmacist, a Doctor of Pharmacy (Pharm.D.) degree is required. This is a graduate degree that can be obtained through different educational paths. Most pharmacy graduate programs require at least two years of undergraduate study, although some require a bachelor's degree.
Many universities also require applicants to take the Pharmacy College Admissions Test (PCAT).
Pharmacy graduate programs are typically four years, though some are three years. An internship or another supervised work experience are required as a component of the academic program.
Pharmacist Employment Opportunities
Pharmacists supervise and train Pharmacy Technicians. Many pharmacists either own or manage pharmacies. In that role, they are responsible for other management functions like, marketing, advertising, and finance.
Others work for hospitals, nursing homes, and other healthcare facilities, prescription drug providers, pharmacy chains, like Walgreens, Rite Aid or CVS, or for grocery stores or retailers with pharmacies, like Walmart or Target.
Pharmacist Salaries 
A career as a pharmacist is a well-paying one, and one of the higher paying jobs in the healthcare field. According to the Bureau of Labor Statistics, Pharmacists earned an average of $122,230 per year in 2016. The bottom 10% of pharmacists earned less than $87,120, and the top 10% earned more than $157,950.
Here's a list of average salaries for pharmacists listed by type of employer:
General merchandise stores - $126,400
Hospitals - $122,820
Grocery stores - $122,670
Pharmacies and drug stores - $121,730
Projected Job Growth
Job opportunities for pharmacists are projected to grow by 6% from 2016 to 2026, about as fast as the average for all occupations. Increased use of medicines by an aging population will support demand for pharmacists while the use of mail order and online pharmacies will moderate growth.
When you're applying for jobs, note the following skills that many employers look for in applicants.
List of Pharmacist Skills
Here's a list of skills employers seek in the candidates they hire. Skills will vary based on the job for which you're applying, so also review our list of skills listed by job and type of skill.
Accuracy
Advising Patients
Analytical
Answering Patient Questions Regarding Reactions to Medications and Side Effects
Assertiveness
Assessing the Strength and Purity of Medications
Attention to Detail
Calculating Appropriate Doses
Checking Patient List of Medications for Possible Drug Interactions
Clarifying Questionable Orders Through Dialogue with Physicians
Collaboration
Communication
Compounding Medications
Comprehending Scientific and Medical Texts
Consulting with Other Healthcare Professionals
Continual Learning
Controlling Costs
Controlling Inventory of Medicines
Critical Thinking
Customer Service
Developing Health Promotion Programs
Devising Protocols
Dispensing Medications According to Specifications from Doctors and Dentists
Educating Medical Staff Regarding Potential Drug Interactions
Evaluating Sources for Supplies Based on Price, Quality and Service
Evaluating Subordinates
Instructing Patients Regarding Directions for Taking Medications 
Interpersonal
Interviewing Job Candidates
Labeling Drugs 
Leadership
Listening
Maintaining Confidentiality
Making Referrals to other Healthcare Professionals
Mathematical
Measuring
Mentoring Pharmacy Technicians
Monitoring Adherence to Quality Standards
Multitasking
Negotiating Agreements with Suppliers
Ordering Supplies
Orienting Staff to Unit Practices
Overseeing Patient Records Systems
Packaging Medicines
Prioritizing 
Problem Solving
Recommending Over the Counter Products
Recruiting Staff
Resolving Insurance Coverage Denials
Reviewing Doctors Orders for Medications
Selecting Health Promotion Literature for Distribution
Setting Quality Standards
Sterile Compounding
Stress Management
Supervising Staff
Supervising the Supply Chain of Medicines
Teamwork
Time Management
Training Staff
Verbal
Working Independently
Working Quickly
Writing
Quick Facts: Pharmacist (Occupational Outlook Handbook)