Photography Skills List and Examples
List of Photography Skills for Resumes, Cover Letters and Interviews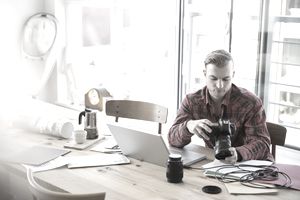 Photography can be an art, a hobby, or just a way of documenting your own life. For some, photography can also be a career. Professional photographers work in a variety of fields, from advertising to journalism. You can also work independently, doing portraiture or creating and selling prints for display.
You don't need a special degree to become a professional photographer, though an art degree can certainly help you hone your skill, but the very fact that anyone with a camera can take pictures means you'll have to be exceptional in some way or another to be noticed.
Building a Portfolio and Resume
As a professional photographer, you will need a resume, just like any other job seeker. In addition to your educational and professional history and your job skills, your resume should also list the photographic equipment and software you use, plus any unpaid projects that exemplify your style.
But you should also ready a portfolio - a collection of your photographs - that you can share with potential employers and clients in order to demonstrate your style and range. After all, your value as a photographer ultimately depends not on your history or on your equipment but on the type and quality of the images you can produce.
How you look for work will depend on whether you are photographing for clients, selling prints, or seeking an employer. You may well find yourself doing all three, working at a day job, photographing weddings on the weekends, and selling a print or two when you can.
If you are looking for clients, much of your work may come through networking, and you might not submit formal application materials very often. If you are seeking a more traditional job, however, you can use the skills list below for ideas to help update your resume, craft your cover letter, and prepare for your interview.
Top Photography Skills
Here are some of the skills you will need for a career in photography, whether as an employee or as an independent artist.
Understanding Hardware and Software
Hardware, in this case, refers to cameras, lenses, tripods, lights, and all the other physical equipment a photographer might use. Some of that equipment is extremely complicated. Just as an aspiring poet must first be fluent in the language he or she uses for composition, so you must become fluent in the functioning of the tools you use, as well as in optics and the technical aspects of why different procedures create the types of images that they do. It is possible to create great pictures by pointing and shooting, but you will have more control and more options the more you know.
In a similar way, you must be familiar with visual editing software. Now that digital photography has become standard, the work that used to be done in the darkroom is all accomplished on the computer. There are many different software packages to choose from. Learn enough to pick your favorite, and then master its possibilities.
Composition
Composition is the artistic dimension of photography, knowing how you want the image to look.
Although one aspect of composition is simply the photographer's taste as an artist, you do have to learn how to think deliberately and intelligently about what looks good in a frame and why, and there are certain universal principles that you should learn, rather than having to reinvent them through trial and error.
Business Skills
While not all photographers work independently, many do. Working as a freelancer or selling prints requires you to be your own business manager. You must handle everything from marketing to payroll, and you must know how to speak with potential clients or customers.
Legal Basics
As a photographer, most of your work will involve subject matter that actually belongs to other people - their likenesses, or the likenesses of their property. You'll also be creating intellectual property of your own.
To avoid misusing others' property or having your own images stolen, you'll need a basic familiarity with relevant law. Some legal knowledge is also important for any self-employed person, so that you can understand contracts and similar documents.
Photography Skills List
Here is an alphabetized photography skills list employers seek in the candidates they hire. You should include some of these skills on your resume. 
A – G
Archiving
Artistic
Attention to Detail
Cameras
Cataloging
Color
Color Correcting
Communication
Composition
Creativity
Cropping
Customer Service
Design
Development
Digital
Digital File Delivery
Digital Imaging
Editing
Editorials
Electronic Image Handling
Entrepreneurial
Equipment
Exposure
Fashion
Film
Flexibility
Form
Formatting
Good Eyesight
H - M
High-Resolution Imaging
Image Manipulation
Imaging
Imaging Technology
Implementing
Interpersonal
Lenses
Lighting
Light Manipulation
Locations
Marketing
Media
N - S
Organization
Patience
Patterns
Photo Shoots
Preservation
Print
Printing
Problem Solving
Processing
Props
Resizing
Retouching
Sales
Scanning
Self-Confidence
Shape
Shooting Film
Slow ISO Speeds
Software
Simplicity
T - Z
Technical
Technology
Training
Trying Different Angles
Using Balance
Visual
Visual Consistency
Web
White Balance
Related Articles: Soft vs. Hard Skills | How to Include Keywords in Your Resume | List of Keywords for Resumes and Cover Letters | Resume Skills List