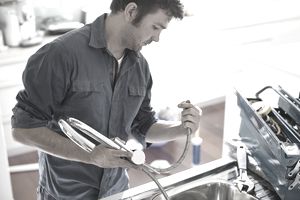 Plumbers work in both commercial and residential settings to repair, install and maintain plumbing fixtures and systems for drainage, heating, drinking, venting and sewage. A large part of the job involves the ability to work with building blueprints to assess layouts of plumbing systems and the water supply. "Wet only plumbers" handle piping systems in bathrooms and radiators. "Gas only plumbers" focus on industrial work.
While plumbers are responsible for a wide range of tasks, there are basic skills which apply to all jobs. Here are some to highlight on your resume.
Plumbing Responsibilities to Highlight on a Resume
Determine what type of plumbing and drainage systems need to be designed
Review blueprints to determine the type of materials needed to install plumbing systems
Choose the pipes and other fixtures according to the building blueprint specifications
Select the materials to install the plumbing system
Install plumbing and drainage systems to meet clients' specifications
Test plumbing system performance and makes changes as needed to achieve proper working order
Install fittings and valves
Install sinks, tubs, toilets and water heaters
Prepare budgets covering supplies, equipment and tools
Perform maintenance on fixtures and pipes as needed
Perform diagnostic tests and repair faulty systems
Repair leaks and test pipe systems
Plumbing Skills to Feature on a Resume
Demonstrated track record troubleshooting complex plumbing systems
Background working with a range of pipe materials and fittings
Top level knowledge in assembling, modifying and fixing plumbing systems
Sound abilities in installing pipes fixtures for water, heat and drainage systems
Extensive knowledge of trade practices and plumbing codes
Familiarity with both industrial and commercial plumbing protocols
Able to estimate materials, equipment costs and labor time
Able to perform hydrostatic and pressure tests to locate leakages
Efficient execution of plumbing orders using blueprints and drawings
Adept at utilizing and maintaining plumbing tools and equipment
Proficient with safely making holes in walls and ceilings to access piping
Skilled in measuring and cutting different size pipes
Works well independently and without supervision
Organizes and maintains efficient and accurate records and daily activity reports
Sample Plumber Resume
EXPERIENCE

Plumber
Astimore Plumbing Supply and Service
June 20XX - Present

Assemble, install and repair pipes, fittings and fixtures of heating, water and drainage systems.
Install and repair plumbing fixtures such as sinks, bathtubs, water heaters, hot water tanks, garbage disposal units and dishwashers.
Work with the construction department to plan plumbing necessities for new buildings, including studying blueprints and developing logical plan for installation.
Assist with training of plumber apprentices.

Plumber Assistant / Apprentice
Sarasota Plumbing
June 20XX - November 20XX

Repair basic home plumbing issues such as clogs and leaks.
Assist plumber with piping, sewage and installation on new home appliances.

EDUCATION

Plumber Apprentice Program
Penn Foster; Scranton, PA
- Successful completion of program
- Plumber license

Scranton High School
Scranton, PA
- Varsity basketball team
- Captain, debate team
Please Note: Samples are provided for guidance only. Letters and other correspondence should be edited to fit your personal situation.