Powerful Management Training
Management Training for Employee Growth and Development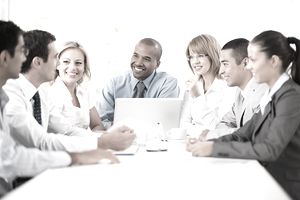 Management training develops employee strengths and their ability to contribute within your organization. A variety of management training is available to organizations – choices are endless.
The management training can include internally supplied, customized for your company, ongoing management development sessions. Management training can also encompass seminars, conferences, training sessions, and college and university classes.
Management training is also provided through book clubs at work, challenging work assignments, and coaching from the manager's boss. Many options in management training are identified through the performance development planning process. Options include classes, internal work assignments, field trips, and self-study. Approach management training with openness and a creative mindset.
You can provide the management training your organization needs to succeed with people. No matter the delivery system you choose for management training, these are the topics you will want to consider.
Management Training Topics
Budgeting and Financial Planning
Reading and Understanding Financial Statements
Reading and Understanding Profit and Loss Documents
Career Planning
Beginning a Career
Mid-career
Transitioning
Career Success Factors
Self-development Planning and Implementation
Change Management
Assessing and Promoting Readiness for Change
Dealing with Resistance to Change
Leading Change
Dealing With Personl Reaction to Change
Organization Culture
What Is Culture
Understanding Your Culture
Changing Culture
Office Politics
Values
Communication
Effective Interpersonal Communication
Empathy and Environment - Emotional Intelligence
Giving and Receiving Feedback
Holding Difficult Conversations
Active Listening
Non-verbal Communication
Presentations
Written Communication
Conflict Resolution
Interpersonal Conflict Resolution
Organizational Conflict Resolution
Mediation
Creativity and Innovation
Customer Service
Employee Wellness
Employee Assistance
Safety and Ergonomics
Stress Management
Substance Abuse
Violence Detection and Prevention
Ethics
Appreciative Inquiry
Meeting Management
Group Dynamics
Group Problem Solving and Decision Making
Leading Groups and Meetings
Online Groups
Questioning Techniques
Labor Relations
Common Employment Laws
Dealing with Union Represented Employees
Discrimination
Management
Coaching/Mentoring
Crisis Management
Dealing with Ineffective Managers
Decision Making
Delegation
Demonstrating Integrity, Courage and Organizational Stewardship
Employee Retention
Managing Day-to-Day Employee Performance
Managing High Potential Employees
Managing in Tough Economic Times
Management Development
Strategic Leadership and Thinking
Supervision
Motivation and Engagement
Employee Motivation
Employee Recognition
Manager's Role in Motivation
Motivational Work Environment
Negotiation
Performance Management
Capacity Building
Disciplinary Action
Goal Setting and Feedback
Performance Development
Performance Development Planning
Performance Improvement
Performance Measurement
Process Improvement
Project Management
Quality
Benchmarking
Balanced Scorecard
Deming
Plan-Do-Study-Act Cycle of Continuous Improvement
Problem Solving
Lean Concepts
Systems Thinking
Recruiting and Hiring
Employee Selection
Job Interviews
Succession Planning
Workforce Planning
Salary and Benefits
Success
Team Building
Employee Empowerment and Involvement
Effective Work Teams
Team Building Activities
Self-directed Teams
Team Performance Management and Measurement
Training
Adult Learning
Cross Training
New Employee Orientation
Training Evaluation
Training Needs Assessment
Training Tools and Ice Breakers
Training Transfer to the Workplace
Work Habits
Organization
Time Management
Planning
Working with People
Assertiveness
Building Interpersonal Relationships
Building Trust
Demonstrates Honesty and Integrity - Confidentiality
Demonstrates Respect
Diverse Work Force Opportunities and Issues
Employee Negativity
Etiquette in the Workplace
Networking and Alliances
Online Social Networking
Ideas about topics for management training are as diverse as management jobs. Choose the management training most suitable to your management career from these suggested options.
More Options for Management Development