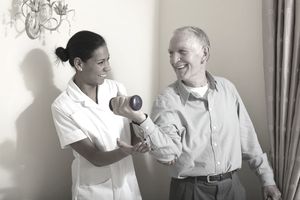 An RN, short for registered nurse, treats patients and provides advice and emotional support to them and their families. Some educate patients, as well as the public, about medical conditions.
There are many nursing specialties including critical care, addiction, oncology, neonatology, geriatrics, and pediatrics. Some RNs work in multiple specialties, for example, pediatric oncology. There are also registered nurses who provide primary or specialty care to patients.
They are clinical nurse specialists, nurse practitioners, and nurse midwives.
Quick Facts
RNs earned a median annual salary of $67,490, or $32.45 per hour, in 2015.
In 2014, there were about 2,751,000 registered nurses employed in the United States.
Over half of them worked in hospitals. Some had jobs in doctor's offices and nursing care facilities or were employed by home health care services, schools, and correctional facilities.
RNs can look forward to an excellent job outlook through, at least, 2024, according to predictions from the U.S. Bureau of Labor Statistics. This agency goes as far as to call it a "Bright Outlook" occupation because this career is expected to grow much faster than the average for all occupations during this period.
Registered nurses in hospitals and nursing care facilities work around the clock, usually on rotating shifts. Their schedules include weekends, evenings and holidays.
A Day In a Registered Nurse's Life
To learn about RNs' duties, we referred to job announcements on Indeed.com. If you want to work in this occupation, you can expect to regularly do the following:
"Implement physicians' orders; administer medications, start IVs, perform treatments, procedures and special tests and document treatment as required by company policy and local/state/federal rules and regulations"
"Order, interpret, and evaluate diagnostic tests to identify and assess patient's condition"
"Assess and evaluate patient needs for, and responses to, care rendered and apply sound nursing judgment in patient care management decisions"
"Provide primary and emergency care for occupational and non-occupational injuries, illnesses, dispensing over-the-counter and prescription medications as ordered"
"Collaborate with nursing team to create a Plan of Care for all patients"
"Direct and guide ancillary personnel and maintains standards of professional nursing" 
The Downside of Being an RN
While registered nurses are in high demand, and the pay in this field is quite good, there are some negative aspects to working in it. Like all healthcare professionals who provide hands-on care, RNs may be exposed to communicable diseases. They are also at risk for sustaining injuries from lifting and moving patients. They must take care to follow procedures that mitigate these risks.
Education and Licensing Requirements
To become a registered nurse, you will have to earn a bachelor's of science degree in nursing (BSN), an associate degree in nursing (ADN), or a diploma in nursing. Some colleges and universities offer BSN programs that generally take four years to complete.
ADN programs, which are available at some community and junior colleges, take two to three years to complete. Diploma programs, usually three years long, are administered by hospitals. They are relatively rare compared to BSN and ADN programs.
To become licensed, a requirement regardless of the state in which you want to practice, you must have graduated from a program that the Accreditation Commission for Education in Nursing (ACEN) or the Commission on Collegiate Nursing Education (CCNE) has accredited. All states also require graduates of approved nursing programs to pass a national licensing exam called the National Council Licensure Examination-RN, or NCLEX-RN, which the National Council of State Boards of Nursing ( NCSBN) administers. Other licensing requirements vary by state. Use the Licensed Occupations Tool on CareerOneStop to see what the state in which you want to work requires.
Also contact the individual state boards of nursing which you can find on the NCSBN website.
What Soft Skills Do You Need?
In addition to the skills you will acquire through your formal training, you will need the following soft skills, or personal characteristics, to succeed in this occupation:
Compassion: If you want to be an RN you must feel and be able to demonstrate concern for others' well-being.
Organizational Skills and Attention to Detail:  Being well organized and detail-oriented will help you correctly follow all procedures. Doing this will keep you, patients, and coworkers safe.
Critical Thinking Skills: This will allow you to evaluate problems and take necessary actions to solve them.
Emotional Stability and Patience: Both of these qualities will help you deal with very difficult situations, which are commonplace in this field.
What Employers Will Expect From You
We consulted Indeed.com once more to discover what qualities employers are looking for in job candidates:
"Excellent bedside manner and communication skills"
"A capacity to collaborate with team members"
"Be able to maintain a high degree of confidentiality concerning health service records and information"
"Must be able to work irregular schedules, weekends, and holidays due to staffing and census fluctuations"
"Ability to provide effective direction and oversee the work of other members of the nursing team"
"Ability to perform multiple tasks simultaneously"
The Difference Between an RN and LPN
While both registered and licensed practical nurses (LPN) care for patients in healthcare facilities, their duties, education, and training and licensing requirements differ. RNs and LPNs monitor patients' health and provide basic care, but LPNs may have restrictions regarding exactly what they can do. These depend on the state in which they work. Some states allow LPNs to provide more advanced care such as giving medication and setting up intravenous drips, and others permit them to do it only under an RN's supervision.
Like RNs, LPNs must receive formal training, but it typically takes less time to complete. Practical nursing programs, found at technical schools and community colleges, are usually about one year long. LPNs must also take a licensing exam called the National Council Licensing Exam-PN (NCLEX-PN).
A job that comes with less responsibility, as well as education and training requirements that are not as rigorous, means that LPNs also have lower earnings than do RNs. In 2015, their average median salary was $43,170,
Is This Career a Good Fit for You?
Holland Code: SIC (Social, Investigative, Conventional)
MBTI Personality Types: ESFJ, ISFJ, ESFP, ISFP (Tieger, Paul D., Barron, Barbara, and Tieger, Kelly. (2014)  Do What You Are. NY: Hatchette Book Group.)
Occupations With Related Activities and Tasks
| | | | |
| --- | --- | --- | --- |
|   | Description | Annual Salary (2015) | Educational Requirements |
| Respiratory Therapist | Treats people who have breathing or cardiopulmonary problems. | $57,790 | Associate degree or Bachelor's degree |
| Cardiovascular Technologist | Uses non-invasive and invasive procedures to help doctors diagnose cardiac and vascular problems. | $54,880 | Associate degree or Bachelor's degree |
| | Administers on-site emergency care. | $31,980 | Classroom training which could culminate in an Associate degree |
Sources:
Bureau of Labor Statistics, U.S. Department of Labor, Occupational Outlook Handbook, 2016-17 (visited January 30, 2017).
Employment and Training Administration, U.S. Department of Labor, O*NET Online (visited January 30, 2017).