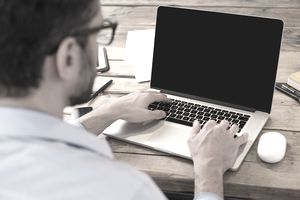 From hiring to firing, there are many aspects to managing employees. One that is often overlooked is having to deal with an employee leaving the company. Employees will leave for various reasons: to go back to school, to move on to different employment opportunities, to travel, to raise a family, for health reasons, etc.
Having an established leaving policy in place ahead of time will help you to handle an employee's departure in a positive, respectful manner.
Read below for advice on creating a resignation policy, as well as tips on how to acknowledge an employee's resignation. Then read two sample letters accepting an employee's resignation.
Resignation Policies
Depending on the size of your company, you may want to consider creating a system or process for handling resignation letters. Having a set policy for resignations will look professional and put both you and the employee at ease.
For many companies, creating generic leaving information pamphlets or packets for employees is an easy way to explain the steps of the transition.
When an employee officially resigns, they will look to you to discuss next steps required to make the transition a smooth one. It is your responsibility to offer professional separation services and to explain things to the employee like notice requirements, final paycheck distribution, and to establish his or her last date of employment.
Tips for Writing a Letter Accepting a Resignation
One of the first steps in a good resignation policy is to acknowledge that you accept an employee's request to resign. Typically, the employee will send you a formal letter of resignation. You should then respond with a formal letter accepting the resignation.
Read below for tips on writing a professional, formal letter accepting an employee's resignation:
Use business letter format. Because this is a professional letter, you should use business letter format for your letter. In the top left corner of the letter, include your contact information, the date, and the employee's contact information. Conclude the letter with your handwritten signature, and your name typed below.
Accept the resignation. Your letter should inform the employee that you have received and accepted his or her resignation letter, and it should clearly state his or her official last day of work with the company.
Express understanding. Your response should indicate that you regret losing the employee, but you respect, understand and appreciate the hard decision he or she had to make. You might also offer to provide some assistance to the employee. For example, you might offer to provide a reference letter for him or her. However, this offer is optional.
Keep a record. Send one letter to the employee, and also keep one for the employee's file. You might keep the letter yourself, or send it to your human resources office if you have one. It will allow you to keep a clear record of when the employee left the company.
Examples of Letters Accepting a Resignation
The following are two examples of letters from a manager accepting an employee's resignation. Use these examples to help you write your own letter.
Sample #1
Your Name
Title
Address
City, State, Zip
Date
Employee Name
Address
City, State, Zip
Dear Firstname,
Your resignation from your position has been accepted, effective on May 15, 20XX as requested. I have no doubt you will continue to perform to your usual high standards during your remaining time with the company.
It has been a pleasure working with you, and I wish you all the best in the future. If I can provide a reference, please do not hesitate to ask.
Sincerely,
Handwritten Signature 
Typed Signature
Sample #2
Your Name
Title
Address
City, State, Zip
Date
Employee Name
Address
City, State, Zip
Dear Miles,
It is with great regret that I formally acknowledge receipt of your resignation notice on June 10th.
Your resignation has been approved and as requested, your final day of work here at JQB and Sons will be June 30th.
It has been a pleasure working with you, and on behalf of the team, I would like to wish you the very best in all your future endeavors. Included with this letter please find an information packet with detailed information on the resignation process. If you have any additional questions, please do not hesitate to contact the office. Thank you again for your positive attitude and hard work all these years. 
All the best,
Handwritten Signature 
Typed Signature
Additional Information
Resignation Letters
How to Resign
How to Say Good-Bye
Resignation Do's and Don'ts