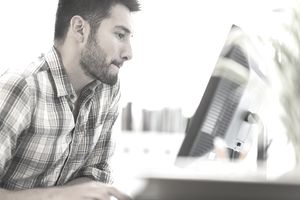 What Is a Resignation Letter?
Ready to resign from your job? A resignation letter is a short letter formally advising your employer that you are leaving your job. A resignation letter can help you maintain a positive relationship with your old employer by leaving with a strong and positive final impression, while also paving the way for you to move on.
Why Write a Resignation Letter?
A letter of resignation is written to announce to human resources, superiors, and co-workers your intent to leave your current position.
It is polite to send this letter out well in advance (especially as required by contract), with two weeks being generally accepted as the minimum.
You never know when you might need that previous employer to give you a reference, so it makes sense to take the time to write a polished and professional resignation letter. Your resignation letter also provides official notice that you're terminating your employment with the company.
Tips for What to Include in a Resignation Letter
Resignation letters not only describe the employee's intent to leave but also provide information about the last day worked and other requests or details. This eases the transition for both employer and employee.
In order to maintain a positive and graceful exit, a letter of resignation often thanks the employer for the opportunities provided and mention experiences gained at the company or how the employee enjoyed their time there.
Often, resignation letters will also offer to help in the transition, whether it be recruiting or training the new replacement. In this way, both the employee and the employer can leave the situation with closure and a sense of respect and amicability. Review these tips for how to write a resignation letter.
Resignation letters are not an appropriate place for complaints or critiques of the employer or co-workers. There are some things that should be left out of your letter. Here's a list of what not to include in a resignation letter.
Review Resignation Letter Samples for a Variety of Circumstances
Review these resignation letter examples to get ideas for your own letter to use to resign from employment. There are general resignation letters, email messages, letters specifying a reason for leaving, and many other examples to use to announce you are leaving a job.
Basic Resignation Letters
The following are general resignation letters that can be used for any circumstances. They are short and to the point.
Resignation Letter Examples With a Reason
Review resignation letters that provide a specific reason for leaving, and letters and email messages for special circumstances, including no notice and short notice.
When Time is Short: Although most employers expect their personnel to provide two weeks' notice before leaving their jobs, sometimes this simply isn't feasible. Here's how to resign with little or no notice.
To Pursue Richer Opportunities: People are often prompted to take the risk of quitting their jobs when they know that better opportunities await. Here's how to explain why you're leaving, without reflecting negatively upon your current employer.
For Family Reasons and Medical Reasons: Major life changes like marriage, pregnancy, childbirth, and health issues are common (and understandable) reasons why people feel it necessary to leave their jobs.
Organizational Restructuring: Changes in one's workplace aren't always easy to weather. If, after a change in management or organization, you feel like it's time to move on, these examples will help you to structure a tactful letter of resignation. There's also a sample of a manager's acceptance of resignation.
To Resign From Short-Term Positions: Sometimes you know from your first day of work that you won't be enjoying a long tenure with an employer, either because of the work climate itself or because it's understood that the job is temporary or seasonal.
Retirement: Glory halleluiah, you're ready to retire – congratulations! Have a look at these examples when you know your working days are over.
How to Resign with Grace: Even if you experienced negativity in your job from others, it's best to resign from one's position gracefully and with gratitude. You want to leave the organization on a good footing, for you never know when you might need to ask for a letter of recommendation or referral.
How to Resign from Specific Positions: Here are a few examples of how to resign from specific occupations.
Email Resignation Messages and Announcements
Review resignation email message examples and sample resignation announcements to use to resign from employment and to inform colleagues and clients that you are leaving your job.
Resignation Letter Templates
These are templates you can use as a starting point for your own letter.
Funny Resignation Letters
Here are resignation letters you might wish you could write, but shouldn't. Read through these to get a laugh or to vent negative feelings about an employer or supervisor.
Farewell to Co-Workers Letters
Review these letters for examples of how to let co-workers know you're moving on to a new position and provide them with your contact information.
Advice on How to Resign
How to Resign
When you resign from your job, it's important to resign gracefully and professionally. Give adequate notice to your employer, write a formal resignation letter, and be prepared to move on prior to submitting your resignation.
How to Say Good-Bye
You have found a new job and you're ready to give two-weeks' notice to your current employer. Here's how to handle your departure.
Resignation Do's and Don'ts
How should you resign from your job? How about what you shouldn't do when turning in your resignation? Here's what you should (and what you shouldn't) do when resigning from your job.