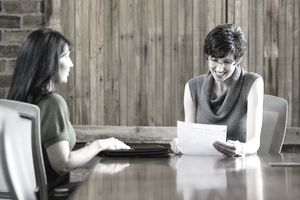 When you're crafting your resume, impeccable attention to detail always makes a difference. Taking the time to write compelling but concise descriptions, proofreading your resume for grammatical errors, and putting together an aesthetically pleasing format will give you a leg up on the competition. Those targeted descriptions which show you're a fit for the position and the keywords and terms you use in your resume also make it easier for the employer to review your resume as a potential match for the job.
What to Include in a Resume Key Skills Section
One area you'll need to focus on in your resume is the "skills" section. Your skills section includes your abilities related to the job you're applying for. You should include both "hard skills" – specific, quantifiable attributions such as proficiency in a foreign language, typing speed, or computer software knowledge – and "soft skills" like flexibility, patience, and time management.
 It's important to make sure your work experience listed on your resume reflects your skills. Then, when it comes time for an interview, be prepared to provide anecdotes, examples, or additional details supporting these skills.
Here's an example of a resume with a skills section to review to get ideas for writing your resume.
Resume Example With Skills Section
Jane Applicant
123 Main St. Sarasota, Florida 12345
(111) (111 -1111)
John.Applicant@email.com
Key Skills:
Communication – Award-winning customer service skills.
Deals with internal and external customers at all levels via telephone and email to ensure successful communication through active listening and thoughtful questions.
Problem Solving - Resolves in-depth queries in a methodical manner independently and with internal and external business partners to find appropriate resolutions and efficiencies, all with a high level of quality.
Team Player - Enjoys sharing knowledge and encouraging the development of others to achieve specific team goals.
Planning and Organizing - Refined planning and organizational skills that balance work, team support, and ad-hoc responsibilities in a timely and professional manner.
Systems Knowledge - Peoplesoft and Oracle.  Experience in preparing and analyzing reporting data for management accurately and to timescales.
Experience:
20XX-20XX          Asebeth Medical Services, Sarasota, FL
HR Coordinator
Collaborated with each office territory and developed processes to enable compliance and recruitment of national field employees following medical client guidelines and contracts. Carried out various audit checks to ensure the correct procedures had been carried out and to identify any training requirements. Scanned confidential documents into electronic filing system and categorized them for retrieval and review.
Processed background checks, coordinated drug screenings, and expedited preparation and compliance of files to ensure seamless accreditation of health organization.
Proactively monitored employee files for monthly compliance requirements by utilizing the computer system to generate reports.
20XX-20XX         Borders Books, Music and Café, Sarasota, FL
Interim Operations Manager
Supervised, coached and counseled staff of 50 employees. Conducted training on the cash register and in-house computers; coordinated all orientation sessions for new hires. Documented stolen items on a daily basis and forwarded reports to Loss Preventions Manager. Partnered with the management team and maintained awareness of upcoming events.
Recruited and scheduled staff to ensure balanced coverage at the information desks, on the floor to restock merchandise, and at the cash registers.
Adapted and revised weekly schedule to consist of maximum 1400 hours as regulated by the Home Office.
20XX-20XX       Borders Books, Music and Café, Sarasota, FL
Operations Supervisor
Coordinated daily operations including morning staff meetings, and addressed and resolved customer complaints.
Dealt with difficult customers with a calm and fair approach, using both diplomacy and empathy when required. Counted, prepared, and reconciled daily bank deposits, maintained a balanced safe, and requested maintenance checks on cash registers, computers, and other equipment. Recorded employee attendance, personal and vacation time, and reported all leaves of absence to the benefits department on a monthly basis.
Utilized Peoplesoft to enter in new hires and process transfers, promotions, and terminations, ensuring all employee time punches in timekeeping system were correct and electronically sent to Home Office.
Researched employee issues to include payroll and benefits questions and worked with appropriate company departments to resolve them by reviewing the company handbook and policies.
20XX-20XX        Borders Books, Music and Café, Sarasota, FL
Full-time Bookseller
Assisted customers with locating merchandise by ordering out-of-stock merchandise for in-store pickup and home delivery. Managed cash register credit card, cash, and return transactions ensuring register balanced.
Awarded Employee of the Month twice and achieved a score of 100% on 3 consecutive phone surveys.
Supported management by restocking merchandise and maintaining excellent customer service standards.
Education:
Sarasota City College, Sarasota, FL
Human Resources Certificate
Systems Experience:
Advanced skill in Peoplesoft and Oracle     
Community Volunteerism:
Sarasota Museum of History, Docent-in-training, Feb 20XX-Present
Alhambra Historical Society, Feb 20XX-Present
Read More: Resume Examples | How to Create a Professional Resume | Resume Objectives | How to Build a Resume in 7 Simple Steps