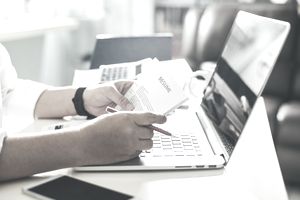 The right resume format will grab the hiring manager's attention immediately and make it clear that you're the best candidate for the job, while de-emphasizing those aspects of your career that you'd prefer not to highlight. For example, if you have a gap in your resume, or a history of job hopping, or a career path that's taken some strange twists and turns, choosing the right resume format can make sure that those factors aren't the first thing a recruiter or hiring manager sees.
Some resume formats will work better than others for emphasizing your particular abilities. Your choice will depend on your career level, work experience, and job history. The job description might also make a difference. For some jobs, you'll want to highlight specific skills, while for others, you'll need to demonstrate related experience.    
Wondering which resume format is best for you? We'll break down the advantages of each type, and offer detailed examples to help you make your decision.
Types of Resume Formats
The different types of resumes include chronological, functional, and combination resumes:
Chronological Resumes. If you've never given much thought to different resume formats, chances are that your resume is currently in the chronological format. This is the most commonly used type. It lists your work history in reverse chronological order (with your most recent work history listed at the top).
Functional Resumes. Functional resumes focus on skills. They are organized by different types of skills or experiences, rather than by chronological work history. Functional resumes are good for people with gaps in employment history, or whose work history is not directly related to the job.
Combination Resumes. Combination resumes are a mix of the chronological and functional formats. They provide a chronological list of one's work history, but they also have sections that focus on different types of skills.
Want to see these resume formats in action? These example resumes can provide a starting point for your own resume. Use these as a jumping off place for your own customized resume (and remember to adapt your final version to each particular job opportunity).
Resume Formats With Headlines and Profiles
Studies have shown that recruiters spend as little as six seconds reviewing a resume before sorting it to the "yes" or "no" pile and moving on.
For this reason, many candidates choose to add a section highlighting their most relevant skills at the top of their resume. There are several ways to do this:
Resume With Headline. A resume headline (also known as a resume title) is a phrase that summarizes why you are an ideal candidate. Headlines can be used by candidates with lots of skills and experience, as well as candidates with less experience who want to highlight their best attributes.
Resume With Profile. A resume profile is a brief statement (often several sentences) that highlights the skills and experiences that make you an ideal candidate.
Resume With Headline and Profile. Including both a brief headline and a longer profile can provide the hiring manager with even more information about you.
If you're new to this type of format, it's a good idea to review the required and optional parts of a resume, to make certain that your final product has everything you need to make a good impression.
For example, resume objectives were once a requirement, but are now optional -- although they can work in your favor if used in the right way.
More About Formatting a Resume
In addition to choosing a type of resume, you will also need to select a font and font size, and make style choices (such as when to use bullets, bold style, italics, etc.).
It's also important to be consistent in your choices. If you decide to bullet your experience, for example, you should make sure to do so throughout. Similarly, once you choose a font, you should stick with it for the whole resume.
Keep in mind that the structure and content of your resume will vary depending on which type of resume you select. However, there is some information that is included in every resume, such as your contact information, education, and experience.
Resume Format Example
Use the following formatting example to generate a list of information to include on your resume. Then, you can revise your resume so that it's in the format you want, and contains the information you choose.
Remember that this is only one example of a resume format. You can add information not included here, including some of the introductory information listed above, and sections listed by theme (such as in a functional resume).
Your Contact Information
First and Last Name
Street Address
City, State, ZIP
Phone (Cell/Home)
Email Address
Note: If you have privacy concerns or are relocating, there are other options you can use to list your address.
Career Summary (optional)
A customized section of your resume that lists key achievements, skills, traits, and experience relevant to the position for which you are applying can serve dual purposes. It highlights your relevant experience and lets the prospective employer know that you have taken the time to create a resume that shows how you are qualified for the specific job.
Experience
This section of your resume includes your work history. List the companies you worked for, dates of employment, the positions you held, and a bulleted list of responsibilities and achievements.
Company #1
City, State
Dates Worked
Job Title
Responsibilities / Achievements
Responsibilities / Achievements
Company #2
City, State
Dates Worked
Job Title
Responsibilities / Achievements
Responsibilities / Achievements
In the education section of your resume, list the schools you attended, the degrees you attained, and any special awards and honors you earned.
College, Degree
Awards, Honors
Skills
Include skills related to the position/career field that you are applying for, such as computer skills or language skills.
References available upon request
There is no need to include references on your resume or even to mention that references are available. Rather, have a separate list of references to give to employers upon request.
Read More: Review Resume Samples | Build a Resume in 7 Easy Steps