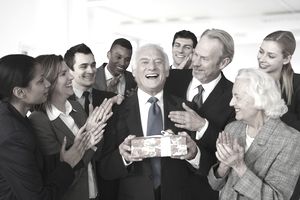 If a co-worker, friend, or former colleague is retiring, consider sending them a note of congratulations. Even though retirement is a positive step, saying goodbye to a long-time job, and leaving colleagues that likely have become friends, is a big step, and one worthy of acknowledgment.
If you're unsure if you should send a note, think about it this way. Just like getting a new job or promotion, graduating, getting married, having a child, or any other major life shift warrants congratulations, retirement is a major life shift and merits congratulations.
Hopefully, the retiree is full of excitement for his or her next step in life, but there may also be ambivalence about embarking on a new phase in one's life. Retirement is unchartered territory, and receiving a thoughtful and appreciative note can be very meaningful to the person who receives it.
What to Include in Your Letter
In your letter of congratulations, you can express gratitude for the work the person has done, and wish him or her all the best in the years ahead. If you're sending a note to a retiring co-worker, or someone you manage, your congratulations note is an opportunity to express gratitude for the employee's help and contributions to the company.
It's very common in retirement notes to mention the number of years the retiree worked at the company. And, your letter of congratulations is also an opportunity to pass along all your contact information so that the two of you can continue to keep in touch.
Below are two sample congratulations notes you can use for inspiration. The first is appropriate for someone you are close to, and the second is a more formal email note, acknowledging the hard work and efforts of a colleague. Make adjustments to fit your particular situation and relationship.
Informal Retirement Congratulations Letter Example
Dear Jayne,
Congratulations on your retirement! You have been a dedicated and appreciated employee of the Media Rich Public Relations Company for 25 years and your collegial good spirit will certainly be missed. That said, as a colleague who has become a friend, I'm happy you'll now have more time to spend with your family.
Enjoy your retirement and I can't wait to hear what's next for you!
Fond Regards,
Eileen
Formal Retirement Congratulations Email Example
Subject line: Retirement Congratulations
Dear Catherine,

Congratulations on your retirement from Helpful House Settlement Group. You have made such a difference in the lives of so many children when they needed someone the most. You proved that it doesn't take much to make a big impact in someone's life.

It's wonderful that you will continue helping others through your volunteer work and I applaud you for your efforts to give back.

We will all miss your smiling face and hope that you'll drop by to visit us when you have the time.

Best Regards,
Maria
More Letter Examples
These sample letters (including cover letters; interview thank you letters; interview follow-up letters; job acceptance and rejection letters; resignation letters; appreciation letters; general business letters, and other appropriate employment letters) should be stock-piled so that you have appropriate employment correspondence ready when you need it.