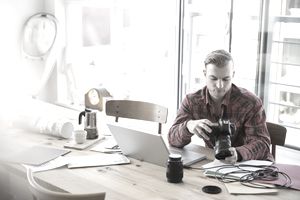 Pixlr is an online photo editing tool. It's fast, simple, and has enough features to make it a good option for low- to moderate-level photo editing. With Pixlr, you can create a new image, upload an image, or grab an image directly from a URL location.
Pixlr's Main Features
Pixlr Editor. If you are already familiar with Photoshop, you will find the Pixlr Editor menu options familiar both in terms of layout and in how the various options work.To use them, you'll need to have some basic understanding of how image edit tools (i.e., fill, crop, blur, smudge, etc.) work.
Pixlr Express. Probably the best thing about the Pixlr Express tool is that it has a variety of one-click changes that are fun, fast and a very good choice for beginning editors.When Hewlett Packard redesigned their image software, they dropped a few features and made it harder to work with. To the rescue is Pixlr Express which is much easier to use and offers former HP image editing features, plus more. It also has one-click manipulation for size, rotation, inversion—as well as the ability to add instant photo effects and changing saturation, and different hues.
Added Features and Perks
Pixlr offers "Grabber for Firefox," a free download that enables you to right click on any image in a web page and then you load it into Pixlr for editing. This Firefox add-on also lets you capture the whole, or parts, of the browser content (i.e., the print screen).
There is also a "Grabber" version that you can download if you're a Window's uses.
Perhaps the best part is that the Grabber feature is free.
Ease of Use / Pixlr User Interface
Here's an ease-of-use rundown, along with some caveats:
The Pixlr Express tool is so simple just about anyone can master it in seconds. The Pixlr Editor, on the other hand, while it has nice features requires some knowledge of photo imaging software—otherwise, there's a good chance you'll get lost.
Pixlr's user interface is extremely easy to navigate and user-friendly.
Unlike Photoshop (which can be intimidating for beginners because of the intense learning curve) Pixlr's tutorials show examples and present information and instructions in easy-to-understand layman's terms. 
To get a better feel for Pixlr and how you can get the most out of its features, you'll want to read their blog before diving in.
Drawbacks
The Pixlr "Help" section is not very helpful. For example, if you have trouble downloading Pixlr's "Grabber" and you click on "Help," you won't find any answers.
Also, if you're the type that needs a lot of help, unfortunately, there are no support or user groups. However, what you can do is read the Pixlr blog—there you'll find additional information about how to get the most out of Pixlr.
Free, Online Pixlr Video Training
If you are new to image editing and do not like to play around with software; the leading Norweigan publisher KT Forlaget / ICT Publish​ has produced video tutorials that will help you quickly master all the important basic features and tools that Pixlr offers. And, you can access all the videos online for free, without having to sign up for an account.