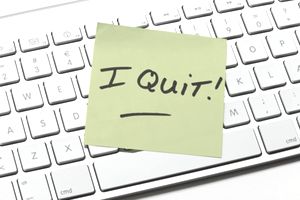 Epically rude resignation letters and videos abound online. Remember "Joey Quits" with 5 million views on YouTube? It went viral and 38,000 people gave Joey DeFrancesco a thumbs up for quitting his job at the Renaissance Hotel by handing manager a resignation letter while a marching band celebrated the occasion.
Infamous Rude Resignation Letters
In a published letter in The New York Times titled "Why I'm Leaving Goldman Sachs," Greg Smith dissed the company's corporate culture as "toxic and destructive" and described how colleagues called their clients "muppets."
Andrew Lahde's letter was printed in the Financial Times stating that what he learned about the hedge fund business was that he hated it. He admitted he was in it for the money and took advantage of the low hanging fruit by finding "people stupid enough to take the other side of my trades."
Steven Slater quit Jet Blue after 20 years as a flight attending. When a flyer refused his edict to sit down by swearing at him, Slater made an unforgettable exit by announcing over the intercom that he was done (in addition to a few expletives). He then tore off his tie, grabbed a beer,  released the emergency exit chute and slid down. (Incidentally, he received a year probation for criminal mischief and reckless endangerment.)
DJ Dave Lee Travis told BBC listeners on air that he would be leaving the station because changes were being made that went against his principles and he could not abide by them.
Perils of a Rude Resignation Letter
Keep in mind that everything you publish or put online can come back to bite you in the future and it may affect your future prospects. After all, what boss wants to hire someone who could potentially make a laughingstock out of him online for all eternity? In 2010, ten percent of workers complained about their boss online - how many of them are still employed?
Sure, you have freedom of speech to express yourself, but companies also have a SLAPP lawsuit up their sleeve – a "strategic lawsuit against public participation" that is meant to shut up their critics. While it stands little chance in court, it's meant to intimidate you and provoke an expensive legal battle. In the long run, your rude resignation is probably not worth the personal, professional and potential financial cost.
Rude Resignation Letter
Here's an example of a rude resignation letter - one that you should probably not send.
Dear Mr. Walker,

I am writing to inform you of my resignation effective immediately. The three months I have spent working for you have been a colossal waste of my time, and I see no reason to continue.

Your business is the most poorly run software company I have ever seen and it is absolutely amazing that it continues to hang on.

Please send my final paycheck to my home address.

Cheers,

Suzette Blanchard
Please Note: This sample is provided for guidance only. Letters and other correspondence should be edited to fit your personal situation.