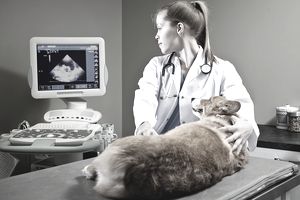 Veterinary medicine is an economically stable profession, with a salary that tends to increase steadily with each year of practice. In addition to years of experience, other factors influencing a vet's salary include the type of practice, geographic location, and whether the vet is a partner or an associate in the practice.
Starting Salary
Vets in their first year of practice can expect to earn a salary of approximately $60,000.
A 2008 study by the American Veterinary Medical Association (AVMA) found some variations in starting salary based on the area of specialization. Small-animal exclusive vets started out with the highest average earnings of $71,462 in the first year. Large-animal exclusive vets started at $68,933. Mixed-practice vets (who practice both large- and small-animal medicine) started with an average salary of $62,327. Equine vets started at the lowest first-year salary, just $38,468.
Practice Type
The national median earnings for the category of all veterinarians was $82,040 in May 2012, according to a salary survey conducted by the Bureau of Labor Statistics (BLS). Private practice vets had median earnings of $90,000 per year according to a 2009 AVMA report. Veterinarians employed by the federal government had an average salary of $93,398 per year. Corporate veterinarians had the highest earnings, with a median salary of over $140,000 per year.
Veterinarians in the armed forces had the lowest earnings, with a median salary of $80,000 per year.  Veterinarians with board certification in a specialty area can earn the highest salaries.
Location
Geography also plays a role in determining the amount that a vet can expect to earn. Vets in major metropolitan areas tend to make more money, but one must also take into account the higher cost of living in these places.
The five states with the highest earnings for veterinarians in 2010 were Connecticut, New Jersey, the District of Columbia, Pennsylvania, and Delaware (mean earnings over $100,000). The top-paying metropolitan areas for veterinarians in 2010 were Port St. Lucie, Florida; Lakeland–Winter Haven, Florida; Newark, New Jersey; Dover, Delaware; Scranton, Pennsylvania; Harrisonburg, Virginia; Santa Barbara, California; Bridgeport-Stamford-Norwalk, Connecticut; San Antonio, Texas; and Atlantic City–Hammonton, New Jersey. Vets working in underserved rural areas, particularly large-animal veterinarians, may earn even higher salaries.
Partners and Associates
As would be expected, partners who own the practice have earnings that significantly outpace those of hired associates. A 2009 study by the AVMA found that there was a $40,000 pay gap between practice owners and their hired associates. Owners averaged $120,000 in earnings per year, compared to $80,000 per year earned by associate employees. Consider that owners do have to bear significant additional expenses for the daily operation of the business, such as equipment purchases, clinic rent or mortgage payment, insurance costs, and so on. Owners also tend to work more hours on average than associates.
Still, they do reap the financial rewards of being a business owner.
Future Growth
According to the AVMA, the average veterinarian's salary increases at a rate of nearly 6 percent each year, outpacing both inflation and cost of living increases. While most veterinarians aren't drawn to the career simply for the money, this very stable profession has an excellent outlook for salary growth in the future. The BLS also projects that the veterinary profession will expand at a rate of about 12 percent, which is approximately the same as the average for all professions.