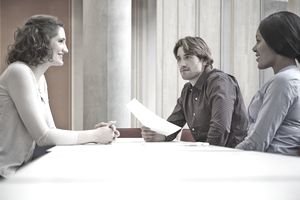 This sample thank you letter, sent after a group (or "panel") interview, reiterates the candidate's interest in the position. It's a wise strategy, always, to send a thank-you letter or email to the people who have interviewed you (even if you have doubts about whether the interview went well).
This thank you letter serves multiple purposes. Not only does it allow you to convey your thanks for the interview, but it also provides you with the opportunity to extend the dialogue you began in the group interview, remind the group members of your qualifications for the job, and ensure that you remain "top of mind" with the committee when they are comparing you to your competition for the job.
A thank you letter also allows you a "second chance" to respond to issues raised in the interview which you felt you might not have adequately addressed.
The "thank you" letter is thus an invaluable marketing tool you can use to reinforce the presentation you provided in the group interview of your hard and soft skills, your educational background, career goals, and personality.
In order to write an effective thank you letter, you should make it a point, during or immediately after the group interview, to jot down the names and titles of everyone involved in the conversation. Often group members will hand you their business cards at the end of the interview. If they do not, make sure to double-check the correct spellings of their names by reviewing the company's website or – if this doesn't work – asking their receptionist for the correct spellings.
Sample Group Interview Thank You Letter
Your Name
Your Address
Your City, State, Zip Code
Your Phone Number
Your Email
Date

Name of Panel Member, Title
Name of Panel Member, Title
Organization
Address
City, State, Zip Code
Dear Ms. Stevens and Mr. Murray:
I would like to thank you and your staff for the opportunity to meet with you and to get a feel for the IT Help Desk Assistant position at [insert Name of Employer]. Although I felt a little nervous going in to the interview, you immediately put me at ease.
I found the questions asked during today's interview to be very engaging and thought-provoking. It was exciting to be able to meet the team during our office tour - a very knowledgeable, fun, and friendly group of people whom I felt connected to immediately.
Today's interview served to reinforce my interest in becoming part of your team. Your description of your customer service protocols and standards impressed me, for it was obvious that you pride yourselves on the delivery of stellar support to your customers. As we discussed during our conversation, as a volunteer at our IT Help Desk at XXX College, I frequently was able to resolve escalated trouble tickets, and found that I really enjoyed the process of talking frustrated tech users through their different issues. It was great to help them achieve that "Ah, ha!" moment when their problems were resolved!
At one point in our discussion, when I mentioned my interest in pursuing evening courses in network administration, you asked whether this would prevent me from working weekends or overtime should this be needed during "crunch times." I'd like to assure you of my full availability to work extra hours whenever required; the professional development courses I'm interested in are also available online, so I can pursue these as my free time allows.
If there is any other information I can provide to help expedite your decision-making process, please let me know. I have enclosed an additional copy of my resume here, and am happy to provide professional references upon your request.
Again, I appreciate the time you and the rest of the team took to talk with me at length and I look forward to hearing from you soon.
Best regards,
FirstName LastName
More Thank You Letter Examples
Thank you for the job interview, internship thank you letter, thanks for the informational interview, thanks for the help, and a variety of additional interview thank you letter samples.
Writing Thank You Letters
How to write a thank you letter including who to thank, what to write, and when to write an employment-related thank you letter.
Job Interview Thank You Letter Tips
Group interview letters, timing, proofing, and more employment thank you letter suggestions.