Sample Human Resources Generalist Job Description
What Does a Human Resources Generalist Do, Exactly?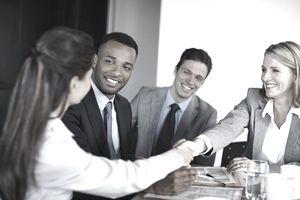 Position Description:
The Human Resources Generalist manages the day-to-day operations of the Human Resource office. The HR Generalist manages the administration of the human resources policies, procedures, and programs. The HR Generalist carries out responsibilities in the following functional areas: departmental development, Human Resource Information Systems (HRIS), employee relations, training and development, benefits, compensation, organizational development, and employment.
The Human Resources Generalist is responsible for all or part of these areas:
recruiting and staffing logistics;
organizational and space planning;
performance management and improvement systems;
organization development;
employment and compliance ​to regulatory concerns and reporting;
employee orientation, development, and training;
employee relations;
company-wide committee facilitation;
company employee communication;
compensation and benefits administration;
employee safety, welfare, wellness and health; and
employee services and counseling.
The Human Resources Generalist originates and leads HR practices and objectives that will provide an employee-oriented, high-performance culture that emphasizes empowerment, quality, productivity and standards, goal attainment, and the recruitment and ongoing development of a superior workforce.
The Human Resources Generalist coordinates implementation of services, policies, and programs through Human Resources staff; reports to the Human Resources Director or HR Manager, and assists and advises company managers about Human Resources issues.
Primary Objectives:
Safety of the workforce.
Development of a superior workforce.
Development of the Human Resources department.
Development of an employee-oriented company culture that emphasizes quality, continuous improvement, and high performance.
Personal ongoing development.
Development of the Human Resources Department
Assists with the development and administration of programs, procedures, and guidelines to help align the workforce with the strategic goals of the company.
Participates in developing department goals, objectives, and systems.
Participates in administrative staff meetings and attends other meetings and seminars.
Assists to establish departmental measurements that support the accomplishment of the company's strategic goals.
Assists with the monitoring of an annual budget.
Human Resource Information Systems
Manages the development and maintenance of the Human Resources sections of both the Internet, particularly recruiting, culture, and company information; and intranet sites.
Maintains employee-related databases. Prepares and analyzes reports that are necessary to carry out the functions of the department and company. Prepares periodic reports for management, as necessary or requested.
Fully utilizes Human Resources software to the company's advantage.
Training and Development
Assists managers with the selection and contracting of external training programs and consultants.
Provides necessary education and materials to managers and employees including workshops, manuals, employee handbooks, and standardized reports.
Assists with the development of and monitors the spending of the corporate training budget.
Maintains employee training records.
Employment
Employee Relations
Assists with the development of Human Resources policies for the company with regard to employee relations.
Partners with management to communicate Human Resources policies, procedures, programs, and laws.
Recommends employee relations practices necessary to establish a positive employer-employee relationship and promote a high level of employee morale and motivation.
Participates in the conduct of investigations when employee complaints or concerns are brought forth.
Advises managers and supervisors about the steps in the progressive discipline system of the company. Counsels managers on employment issues.
Assists with the implementation of company safety and health programs. Tracks and posts OSHA-required data and files reports.
Compensation
Assists with the monitoring of the company wage and salary structure and the variable pay systems within the company including bonuses and raises.
Provides competitive market research and prepares pay studies to help establish pay practices and pay bands that help to recruit and retain superior staff.
Provides payroll processing backup support. Partners with accounting and payroll to maintain the payroll database.
Participates in one salary survey per year.
Benefits
Provides day-to-day benefits administration services. Assist employees with any claim issues.
Develops and schedules benefits orientations and other benefits training.
Administers the 401(k) plan and completes yearly compliance reporting.
Administers disability and worker's compensation claims.
Recommends changes in benefits offered, especially new benefits aimed at employee satisfaction and retention.
Law
Protects the interests of employees and the company in accordance with company Human Resources policies and governmental laws and regulations.
Organization Development
Assists with employee communication and feedback through such avenues as company meetings, suggestion programs, employee satisfaction surveys, newsletters, employee focus groups, one-on-one meetings, and Intranet use.
Helps ​to monitor the organization's culture so that it supports the attainment of the company's goals and promotes employee satisfaction.
Assists with the company-wide committees including the wellness, training, environmental health and safety, activity, and culture and communications committees.
The Human Resources Generalist assumes other responsibilities as assigned by the Human Resources Director.
To perform the Human Resources Generalist job successfully, an individual must be able to perform each essential responsibility satisfactorily. These requirements are representative, but not all-inclusive, of the knowledge, skill, and ability required of the company Human Resources Generalist.
Reasonable accommodations may be made to enable individuals with disabilities to perform the essential functions.
Human Resources Generalist Requirements
General knowledge of employment laws and practices.
Experience in the administration of benefits and compensation programs and other Human Resources programs.
Excellent computer skills in a Microsoft Windows environment. Must include Excel and demonstrated skills in database management and record keeping.
Effective oral and written communication.
Excellent interpersonal and coaching skills.
Evidence of the practice of a high level of confidentiality.
Excellent organizational skills.
Education and Experience
Minimum of a Bachelor's degree or equivalent in Human Resources, Business, or Organization Development or equivalent. Masters degree preferred.
Three to five plus years of progressive leadership experience in Human Resources positions.
Specialized training in employment law, compensation, organizational planning, organization development, employee relations, safety, training, and preventive labor relations, preferred.
Professional in Human Resources (PHR) certification preferred, not required.
Physical Demands of the HR Generalist's Job
These physical demands are representative of the physical requirements necessary for an employee to successfully perform the essential functions of the Human Resources Generalist's job.
Reasonable accommodation can be made to enable people with disabilities to perform the described essential functions of the Human Resources Generalist's job.
While performing the responsibilities of the Human Resources Generalist's job, the employee is required to talk and hear. The employee is often required to sit and use their hands and fingers, to handle or feel and to manipulate keys on a keyboard.
The employee is occasionally required to stand, walk, reach with arms and hands, climb or balance, and to stoop, kneel, crouch or crawl. Vision abilities required in this job include close vision.
Work Environment for the HR Generalist's Job
While performing the responsibilities of the Human Resources Generalist's job, these work environment characteristics are representative of the environment the Human Resources Generalist will encounter. Reasonable accommodations may be made to enable people with disabilities to perform the essential functions of the Human Resources Generalist's job.
While performing the duties of this job, the employee is occasionally exposed to moving mechanical parts and vehicles. The noise level in the work environment is usually quiet to moderate.
Conclusion
This job description is intended to convey information essential to understanding the scope of the Human Resources Generalist's position and it is not intended to be an exhaustive list of skills, efforts, duties, responsibilities or working conditions associated with the position.
Disclaimer: Please note that the information provided, while authoritative, is not guaranteed for accuracy and legality. The site is read by a world-wide audience and employment laws and regulations vary from state to state and country to country. Please seek legal assistance, or assistance from State, Federal, or International governmental resources, to make certain your legal interpretation and decisions are correct for your location. This information is for guidance, ideas, and assistance.
Human Resources Generalist