Sample Letter of Termination for Cause
Use This Sample Termination Letter to Fire an Employee for Cause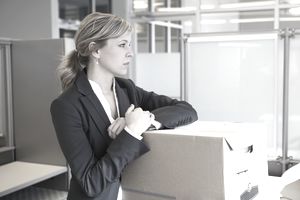 Need a sample letter to use when you terminate an employee's employment for a reason? This sample letter of termination states the cause and confirms that the employment relationship is terminated. Use this sample letter of termination as an example when you write your own termination letters.
You can send a letter of termination to the employee following the termination meeting with return receipt requested, or you can hand the letter to the employee at the end of the meeting.
It should be printed on company stationery with the official signature of the employee's manager.
Under normal circumstances, the manager or supervisor and a representative from Human Resources will hold the termination meeting with the employee. This meeting to terminate the employee for cause should occur as soon as the organization has the information, documentation, and proof necessary to fire the employee. The letter of termination summarizes what was said at the meeting.
Sample Letter of Termination
Date
Mr. John Sanchez
20507 Valley Rd.
Cedar Bluffs, NE 68015
Dear John,
This letter confirms our discussion today that your employment with Sealy Company is terminated for cause, effective immediately.
Your employment, as discussed during the termination meeting, is terminated because you committed company personnel and resources to a client after being told by both your manager and your department head, that the company would not provide these resources nor seek a relationship with that potential client.
Your subsequent commitment of resources, after being told explicitly not to commit the resources, was a gross violation of company policy and our code of conduct.
In attempting to cover up your commitment, you tried to involve several other employees in your deception. This is behavior that cannot be countenanced and it also violates our code of conduct.
Payment for your accrued PTO will be included in your final paycheck* which you will receive on our regular payday, Friday. We can mail your final paycheck to your home or you can make arrangements with your supervisor to pick it up.
You can expect a separate benefits status letter that will outline the status of your benefits upon termination. The letter will include information about your eligibility for Consolidated Omnibus Budget Reconciliation Act (COBRA) continuation of group health coverage.
We have received from your security swipe card, your office keys, and the company owned laptop and cell phone at the termination meeting.
You will need to keep the company informed of your contact information so that we are able to provide ​the information you may need in the future such as your W-2 form.
Please let us know if we can assist you during your transition.
Regards,
Name of Manager or Company Owner
*Please note that laws regarding the final paycheck may vary from state to state and country to country.
Disclaimer: Please note that Susan makes every effort to offer accurate, common-sense, ethical Human Resources management, employer, and workplace advice on this website, but she is not an attorney, and the content on the site is not to be construed as legal advice.
The site has a world-wide audience and employment laws and regulations vary from state to state and country to country, so the site cannot be definitive on all of them for your workplace. When in doubt, always seek legal counsel. The information on the site is provided for guidance only, never as legal advice.
More Sample Employer Letters