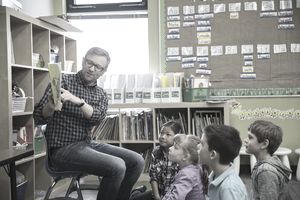 Do you need to write or request a reference letter for teaching? Read below for advice on writing a reference letter, as well as a sample reference letter for a teacher.
How to Use a Reference Letter Sample
If you are writing a letter for a teacher, use this sample to guide your own writing. A letter sample can help you decide what kind of content you should include, as well as how to format your letter.
While letter samples are a great starting point for your own letter, you should always tailor a letter to fit the particular person you are writing the letter for, and the information he or she asks you to include.
If you are requesting a reference letter for a teaching position, you might send this reference letter sample to the writer to help guide their own letter. However, be sure to also provide them with clear instructions on what information you need them to include, and give them a resume or list of your skills and experiences to help them write the letter. You do not want them to simply copy and paste the sample reference letter.
Tips on Writing a Reference Letter for a Teacher
Follow business letter format. Use official business letter format when writing your letter. If time is of the essence, you might consider sending a recommendation email instead of a letter.
Focus on the job description. Ask the person for whom you're writing the letter for a copy of the teaching job. This way, you can focus on the requirements of the position. Try to include language from the job description in your letter. Even if you are writing a more general recommendation, you can still ask the person about the types of jobs they will be applying for (i.e. what teaching positions, what kinds of schools).
Include specific examples. In the letter, provide examples of ways in which the person demonstrated various traits in the past. If possible, use numbers to quantify their successes. For example, "Under Mr. Smith's guidance, our students' state test scores improved in Biology by 20%."
Remain positive. State that you think this person is a strong candidate. You might say something like "I recommend this person without reservation," or "I would hire this person again if I could." You want to help this candidate stand out.
Share your contact information. Provide a way for the employer to contact you if they have further questions. Include your email address, telephone number, or both. If your reference is in business letter format, your contact information will be at the top of the letter. If you are sending an email reference letter, include your contact info underneath your typed signature.
Follow the submission guidelines. Ask the person for whom you're writing the reference how to submit the letter. Make sure you follow any requirements, especially about where to send it and when, as well as the format (for example, PDF, physical letter, etc.)
Asking someone for a letter of reference for a teaching job? Click here for tips on requesting a reference letter.
Sample Reference Letter for a Teacher
Your Address
Your City, State, Zip Code
Your Cell Phone Number
Your Email
Date
Name
Title
Company
Address
City, State, Zip Code
Dr. Mr./Mrs. Firstname Lastname:
I highly recommend Michelle Johnson as a candidate for the position of fifth-grade lead teacher at your school. As principal of St. Paul's School, I have had the pleasure of working with Michelle for the past five years. She is a driven, organized teacher who develops inspiring relationships with her students.
Michelle has always been driven to develop her skills as a teacher. She came to us a student teacher, eagerly taking up extra responsibilities such as advisor of the school newspaper, and was a member of our curriculum committee. She continued to demonstrate this drive through her tenure at our school, even becoming the head of the curriculum committee last year. Michelle embraces any opportunity for professional development, which makes her an ideal leader.
Michelle has a wonderful rapport with people of all ages, especially children. Her ability to connect with her students and her talent at teaching simple concepts, as well as more advanced topics, are both truly superior. She also has excellent written and verbal communication skills with both parents and teachers.
Michelle accomplishes all these tasks with great initiative and with a positive attitude.
I recommend Michelle to you without reservation. If you have any further questions with regard to her background or qualifications, please do not hesitate to contact me.
Sincerely,
Your Signature (hard copy letter)
Mary Haddock
Principal
St. Paul's School
More Reference Letter Examples
More examples of reference letters written for friends, co-workers, clients, employees, students, vendors, and professional connections.
More Reference Articles and Advice