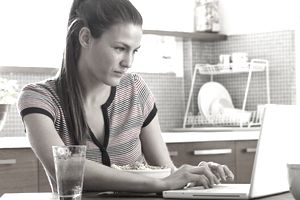 Occasionally – but not always – job advertisements will ask that applicants provide three references along with their resume for consideration. Ideally, you will have departed your previous jobs on a good standing with your employers. In the best case scenario, they will have provided you with a general letter of reference attesting to your work performance with their organization. However, what do you do if you don't have such a letter – or if you are a recent college or high school graduate without work experience?
In these cases, you are going to have to write a reference request letter to someone who can vouch for your potential as an employee.
Ideally, for people who have work experience, professional references should be provided from former supervisors who are familiar with your work history, strengths, and hard and soft skills. If you no longer remember the name of a supervisor or they have moved on, a second option is to contact the Human Resources (HR) department of your previous employers for a reference; they should still have your personnel file available, from which they can glean the information needed for a reference.
If you are a recent graduate, you will probably be writing reference letter requests to former teachers, coaches, work study supervisors, pastors, or the leaders of community groups or extracurricular clubs in which you have participated.
Think carefully about who ask to be your references – you want to select people that you know will say positive things about you.
In order to do this, they should be people with whom you maintained a good rapport and who "remember your name."
What to Include in a Reference Request Letter
When you write a reference request letter, you should provide:
An introduction explaining to the recipient your need for a reference
A brief reminder to the recipient of the details of your connection – the dates for which you worked for their organization, the nature of your job, and any unique or outstanding contributions you made to your employer
The deadline by which you need to submit references
Your sincere thanks for their assistance in serving as a reference for you
Your contact information
It's also a good idea to attach a copy of your resume and copies of the job ads to which you are applying. This will give the recipient valuable information they can use as talking points should an employer contact them to ask about your work history with them.
The following sample letter demonstrates how to ask someone to provide a reference for employment. This letter can be sent via email or paper mail. If you request a reference via email, include the following in the subject line of your message: Your Name - Reference Request.
Requesting a Reference Letter Sample
Dear Mr. Doe,
I am writing to ask whether it would be possible for you to provide a reference for me.
As you know, I worked as a [insert Job Title] for you between [start Date] and [end Date], during which time I maintained a perfect attendance record and earned high scores on my performance evaluations. If you would be able to attest to my qualifications for employment and to the skills I attained during my tenure at ABC Company, I would sincerely appreciate it.
I am in the process of seeking employment as a [insert Job Title] and a positive reference from you would enhance my prospects of achieving my career goals; I need to have my list of references ready to submit by June 18, 20--.
Please let me know if there is any information I can provide regarding my experience to assist you in giving me a reference; I've attached my resume for your review. I can be reached at jsmith@abcd.com or (111) 111-1111.
Thank you for your consideration.
Sincerely,
John Smith
More About References
Reference Letter Samples
Visit this link to view sample reference letters and recommendation letters, letter samples for character references, and letters asking for a reference.
How to Request a Character Reference
Looking for your first job? Concerned about the references your employer might give you? Consider using a character reference (personal reference) in addition to or as an alternative to employment reference letters.