Scrum Master Skills List
Scrum Master Skills for Resumes, Cover Letters and Interviews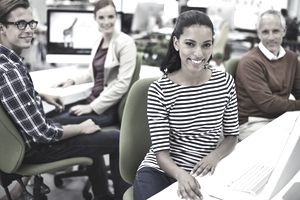 Scrum is an Agile framework for complex projects. Originally developed for software development teams, Scrum can now easily be implemented across a variety of fields. Through daily meetings, detailed project timelines, and identification of potential project roadblocks, Scrum helps easily breakdown a project into tangible goals. 
What a Scrum Master Does
The leader of this process is referred to as a Scrum Master. The Scrum Master (or Agile Coach) is responsible for maintaining a proper power of balance between the project owner, scrum team and management.
Often the Agile evangelist, the Scrum Master is not a traditional project manager. Instead, the Scrum Master, helps increase productivity amongst the scrum team by selecting and splitting up project requirements into "Sprints." The Scrum Master then ensures the right people are working on the right tasks, and work will be completed in the expected time frame.
If impediments or blockers occur, it is the responsibility of the Scrum Master to troubleshoot and solve the issue. It is not a requirement that Scrum Masters have a technical background, but it is vital a Scrum Master have excellent management and communication skills. 
Scrum Master Skills
Here's a list of Scrum Master skills for resumes, cover letters, job applications and interviews. Required skills will vary based on the job for which you're applying, so also review our list of skills listed by job and type of skill.
Achieve Sprint Goals
Act as Liaison Between Project Owner and Development Team
Adapt and Write Product Visions
Address Team Needs Efficiently and Effectively
Adhere to Project Timelines
Agile Coach 
Build and Develop a High-Performance Team
Build Release Plan
Coach Organization Into Scrum Adoption
Continuously Improve Processes 
Educate Project Owner, Team, Management, and Company
Encourage Project Organization
Encourage Project Transparency 
Ensure Scrum Process is Running
Ensure Team Follows the Values and Practices of Scrum 
Evangelize Agile Within Organization
Detect Potential Problems
Facilitate Daily Standup Meetings
Focus and Educate Team on Business Goals
Foster Feedback
Help Team Learn From Past Experiences
Hold Retrospective Meetings
Hold Team Members Responsible For Tasks
Increase Productivity of Development Teams and Organization 
Keep Team Focused on Current Sprint Requirements
Learn Everything Agile
Maintain a Proper Balance Between Project Owner, Scrum Team, and Management
Maintain Burndown Chart
Maintain Scrum Tools
Moderate During Team Meetings
Organize Daily Planning Meetings
Organize and Maintain Product Backlog
Owner of Blocker Board
Process Owner 
Promote Use of Agile Engineering Practices 
Promote Self-Help Within Development Teams
Quality Control
Setup Sprint Review and Planning Sessions
Shield Team From Interruptions During Sprints 
Solve and Remove Impediments
Speak on Behalf of Development Team
Support Team Building 
Team Leader 
Troubleshoot Impediments and Blockers
Up-to-Date On Industry Trends
Utilize Skills and Abilities of Team
Walk Project Owner Through User Stories
Work with Project Owner
Write User Stories