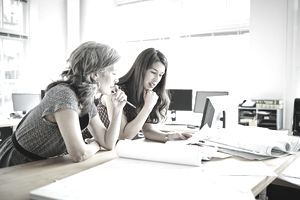 Some certifications are not worth the paper they are printed on (i.e., online class certifications from non-credited learning institutes), but certifying your business as women-owned definitely is worth doing - especially if you plan to do business with any local, state or, the federal government.
Your business does not have to be entirely owned by women in order to qualify for certification as a woman-owned business (WOB) as long as the business is at least 51% owned by a woman(en).  If the business is publicly owned, 51% of stock must be owned by women.  Additionally, a woman (or women) must be actively involved in the business in a certain way (see more below about requirements for being certified as a WOB).
What are Some of the Reasons I Should Certify as a WOB?
More Opportunities. If you are planning to do business with a government agency the first and most likely place you will be found is in the Contractor Registry.
Exclusive Opportunities. When you become a certified WOB you may receive discounts for memberships or even free subscriptions to services and magazines.
Increased Credibility. Becoming certified is a process; you must apply and be approved for certification.  Not all business are eligible for certifications and not all that apply are approved.  Being certified makes your business stand out in a unique way.
Can I Self-Certify My Business as a Women-Owned Business?
Yes, you absolutely can self-certify your business as women-owned (if it really is.)
There are no legal requirements to formally certify as a women-owned business, but it is still not necessarily a good idea to self-certify. The law permits first-time bidders to "self-certify," if they meet certain conditions of being a women-owned business.
However, this self-certification can be challenged upon procurement award. If this happens, the procuring agency may request proof of the firms' WOB status, or even require certification. If you fail to comply, you could lose the award.
Your business may also be overlooked as there is considerable discretion among contracting officers in how they accept, approach, and award contracts. A formally certified women-owned business may, in the eyes of a contracting officer, be preferable.
Should You Certify as a Women-Owned Business?
Federal Acquisition Regulations (FAR) Definition of "Women-Owned Small Business"
The term "women-owned small business concern" as defined by the FAR means that the business:
Must be at least 51 percent owned by one or more women; or, in the case of any publicly owned business, at least 51 percent of the stock of which is owned by one or more women; and
Management and daily business operations must be controlled by one or more women.
It is important to note, however, that the Small Business Administration (SBA) has other, more specific criteria for women, including:
The business must be independently owned and operated,
Must be organized for profit, and
Is not dominant in its field or industry.
Additionally, the SBA further defines "small business" based on industry, number of employees, and receipts.
WOSB Program Third Party Certification – Updated
The SBA has approved four organizations to act as Third Party Certifiers under the WOSB Program. The four organizations and contact information are: