Service Award Rewards Employee Longevity and Loyalty
How and Why You Want to Recognize Your Employees with a Service Award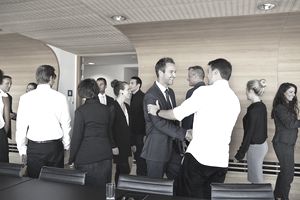 Are you taking advantage of the overall value of a service award as a component in your organization's employee recognition processes and program? The service award is a valuable component of an organization's overall employee recognition efforts. You just need to understand, value, and appropriately utilize the service award in your formal employee recognition mix.
A service award is an opportunity for an organization to recognize an employee for his or her longevity or tenure with the organization.
A service award comes in many variations as does the approach an organization uses to recognize an employee with a service award.
Here is what you need to know about the who, what, when, where, and why an organization might want to supply a service award to an employee. Try it. Employees love service awards—they're just one more way to say how much you value your employees.
Advantages of a Service Award
Employers will want to consider offering a service award to recognize and celebrate the longevity of an employee for the following reasons.
The service award should be the only bonus or compensation component that recognizes the length of time that an employee has worked for your organization. Length of service is generally only recognized in public sector jobs, and in the public and private sector in union-represented jobs. Employers may informally recognize longer term employees because of their higher salaries due to annual increases over a period of time. But, in a future that is driven by individual compensation based on contribution, merit pay will rule the day.​
A service award recognizes that an employee has served an appreciated period of time in your organization. The service award allows the employer to thank the employee for his or her service. Consequently, you see employers recognizing a year of service with an award. Then, service awards recognize, depending on the organization, three years, five years, ten years, fifteen years and so forth with increasingly valuable presents and awards. Some organizations accompany a service award with a plaque, a written recognition letter, and additional paid time off.
By virtue of their long service, these employees who receive a service award are generally positive about working for your organization. They contribute to your organization's positive culture and environment, so it makes sense to recognize them and their continuing contribution.
Recommendations About the Service Award
Organizations do well to take advantage of the positive employee feelings that are generated with a service award. A service award that is quietly given, with no pomp and circumstances, fails to capture the advantages and opportunities available to positively affect employee morale. Rewards and recognition that are publicly extended enhance the value of the recognition for the employees receiving it.
These are recommendations about how to provide a service award while creating the most positive impact and increasing employee morale and feelings of appreciation.
Ask a cross-functional team of employees to put together your service award program or process. These employees will know what other employees find rewarding and recognizing. Give the team a budget so that they can select appropriate gifts.
Give the service award team parameters. For example, the service award must contain a component that lasts over time such as a plaque or additional acknowledgment of appreciation that the employee can look at for years. A gift of money is spent with no memory of why the money was given and has little lasting value as a positive employee memory.

The same is true with gifts of merchandise. Once the suitcase or briefcase or watch is incorporated into the employee's life, it has little value as a service award. So, merchandise must have a component that sets it apart from what an employee can purchase for him or herself in a store. Perhaps an official company plaque with the employee's name will make the service award a proud memory.
For the same reason, you will want to present a service award at an all-employee meeting or ceremony to enhance and publicize the value of the service award recognition. The ideal presenter is the company CEO, president, or division head, depending on the size of your organization.
Every employee who reaches the designated years of service should receive the same service award. This is one employee recognition opportunity that should be consistent, fair, and equitable.
Accompany the service award with a written acknowledgment of the employee's service. This recognition letter should state the length of service, thank the employee, and provide memorable details about why the employee is receiving the service award.
A service award program is a valuable and valued component of your overall employee recognition efforts. Don't let the opportunity that a service award provides go by the wayside because you fail to take advantage of the opportunity to recognize employees appropriately—to your advantage and theirs.