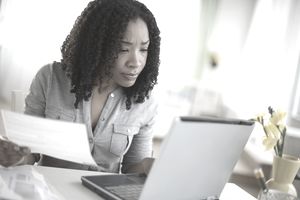 Should you include references on your resume itself, or should an attached list of references accompany your resume when you apply for jobs? A list of references is a list of the people who the employer might contact to learn more information about you. These people should be able to vouch for your qualifications for a job. Sometimes an employer will contact only one person on the list, and other times an employer will contact everyone.
The employer might reach out to speak to these references either via email or on the phone. A list of strong references can be a great way to demonstrate your qualifications for a position – but this doesn't mean that you should automatically include one with your resume.
When Not to Include References
If a job posting doesn't request references, the answer is simple: don't list any references on your resume or send any references with your job application. There are a few good reasons for this. Although including a list of references on a resume was de rigeur thirty years ago, this practice has almost disappeared over the last decade.
Providing references on the resume itself can thus peg you as an older job candidate (even if you aren't). Employers also realize that it has become policy for many companies *not* to provide references for their personnel (because of potential lawsuits if they provide a poor reference).
They thus do not expect job candidates to provide such a list.
Finally – even if you trust your references to provide a strong recommendation – there is always the chance that a) they will not actually do so, or b) they themselves are known to and not respected by the hiring committee members who will be reviewing your resume.
When the job posting does request references, follow the instructions in the job posting when you submit your references. Unless instructed to do so, do not include the list on your resume; rather, create it as a separate list of three references to send to the company.
When an Employer Requests References
In some cases, an employer will request references in the job posting. For example:
Application Instructions

Applicants must submit the following documents online:

Resume
Cover letter
A list of three professional references with telephone numbers and email addresses
When references are required as part of the job application, send or upload a separate page with a list of references. This list should include each reference's name, job title, company, address, phone, and email address. If the job listing asks you to submit a list of references but does not tell you how many you need, include three on the list. This is the typical number of references that employers want for each candidate.
How to Request a Reference
When you give out someone's name as a reference, first of all, be sure that you have permission to use them as a reference. Secondly, let them know they may expect to be contacted.
This will better prepare them to provide a strong recommendation for you if they are contacted.
Provide some information on the job you have applied for, so your reference can relate your experience to the job and give you the best possible reference for the job. You might also provide the person with an updated resume or list of your skills and qualifications.
If possible, select people who can speak to your skills and qualifications as they relate to the job you're applying for. Only choose people who you know will give you a positive recommendation. These are typically employers, business acquaintances, professors, or even customers or vendors.
Sample Reference List
Below is a sample reference list. You can use it as a template for your own reference list.
Reference List

Your Name
Address
City, State Zip
Phone
Cell Phone
Email

References

Sam Wyatt
Human Resources Manager
ABC Company
Address
City, State Zip
Phone
Email

Louisa Christopher
Associate Director
XYZ Company
Address
City, State Zip
Phone
Email

Jorge Martinez
Executive Administrator
123 Company
Address
City, State Zip
Phone
Email
Here is another sample reference list for employment for you to use as a template.