Should You Wear Pantyhose to Job Interviews or Work?
When Pantyhose are Appropriate in the Workplace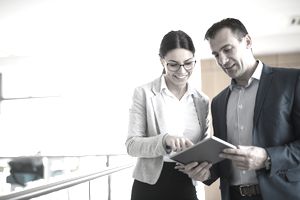 Whether or not to wear pantyhose remains a contested issue among female employees and job seekers. Changes in fashion and workplace dress codes have caused some women to forgo pantyhose for bare legs, while other women claim pantyhose are still essential. So who is right?
Read below for more information on when it is appropriate, and when it is unnecessary, to wear pantyhose to a job interview or to work.
Company Dress Codes and Company Culture
The answer to the question, "Should you wear pantyhose to job interviews or work?" depends on a number of factors. Firstly, your attire always depends on the company. If you know the company allows business casual dress, you should feel fine not wearing pantyhose. However, if the company prefers business dress (a pantsuit or a suit with a blouse), pantyhose would be more appropriate.
If you are unsure as to the company's dress policies, ask. If you have an interview coming up, you can call the front desk and ask. If you know someone who works for the company, you can ask them for advice as well.
Many people believe that wearing or not wearing pantyhose is a generational issue and that younger generations simply do not need to wear pantyhose. Pantyhose may be less essential today than they were a generation ago. However, regardless of her age, a job seeker should always think about the company's culture before deciding to skip the legwear.
When in doubt about whether or not to wear pantyhose, always err on the side of caution, especially in an interview. It's always better to be slightly overdressed in an interview than underdressed.
Choosing the Right Pantyhose to Wear
If you decide to wear pantyhose, stick to either nude or black (opaque) tights, especially when interviewing.
Colored and patterned tights have become trendy recently, but they do always not convey professionalism in the way that nude or black pantyhose do. For example, picture someone walking into an interview in fishnet pantyhose – it is not often considered a professional look.
Once you are hired by a company and have a better feel for the company culture, you can decide whether more playful types of pantyhose and tights are okay.
What to Wear With Pantyhose
You can wear pantyhose with a dress or a skirt. If you wear a dress, you might choose a neutral color like black, gray, beige, or navy blue. You can pair the dress with a matching blazer or a cardigan.
However, you might also try wearing a statement dress. It is a dress in an interesting color, such as a muted turquoise or maroon. With this kind of dress, you do not need to wear any other accessories (such as a necklace), because the bold dress speaks for itself. Any other elements of your outfit – such as your shoes or jacket – should be muted in pattern and color. You also want to make sure the neckline and hemline are appropriate. The dress should not be too short, and you do not want a revealing neckline.
Instead of a dress, you might wear a skirt with pantyhose.
Like a dress, you can wear a neutral-colored skirt, or pair a statement skirt with a simple top. You can pair a skirt with a blazer, a button-down, a blouse, a cardigan, or sweater. Make sure the skirt is not too short or too tight.
Alternative Interview and Work Wear
If you simply hate wearing pantyhose, consider wearing a professional outfit other than a skirt or dress. If the company prefers business dress, consider wearing a business suit (for places with the most strict professional dress code), or dress pants with a sweater, blouse, cardigan, or button-down shirt.
If you wear dress pants, pick a neutral color, like black, gray, beige, or navy blue. You can add a pop of color with your blouse.
Additional Information
Interview Outfits for Men
Casual Job Interview Attire