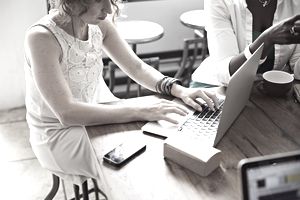 A new field of human endeavor is being created in social media, complete with a lot of exciting job openings. If you go to work in this new field, you will likely find yourself managing social media accounts across multiple platforms, planning publicity campaigns that will be spread through social media, or producing online content that has an interactive component.
Social media is a new field, and as such, there are few pre-determined standards or certifications or licensing that must be honored.
Some of the job titles you might find in your job hunt will be a bit creative. It might be difficult to find out what the job really entails.
You can begin your job hunt by looking for keywords like digital content, digital media, content, community, online, social marketing, social media, engagement, and interactive. The following list includes some of the more common (and traditional-sounding) social media-related job titles. The list may also be useful to you if you are looking to hire someone for such a position, but don't know what to call the job.
What's in a Name?
Although non-standard job titles can be confusing at first, creative titles do give you valuable information about a prospective employer. A company hiring for positions called social media guru, interactive media czar, digital media ninja, content swami, or brand evangelist wants to be seen as a little "out there."
The staff may simply be trying to entertain each other, but more likely they are deliberately crafting an image in order to attract applicants who have a playful nature and a creative, or even iconoclastic attitude.
If you are put off by being called a maven or a rock star, you probably won't be a good fit for that company's culture - or even its mission. If these names make you smile, you might have found your new professional home.
But because of the new and open-ended nature of the field, even traditional-sounding titles might not tell you very much about the job itself.
It may be difficult at first glance to know whether you'll be coordinating other staff or if you'll be the only employee at the company who works in social media. In fact, managing and creating social media content may be only an ancillary duty assigned to an employee whose main job is doing other tasks.
But no position is so cutting-edge that it shouldn't have a job description. Read these, and ask any questions you may have. Any reluctance to clearly communicate on the part of the company tells you something else about working there.
Top Social Media Job Titles
Director of Social Media
Director is a fairly high-level title, and if this is the job you're hired for, it's likely that you'll be responsible for strategy, and possibly for managing other people. You will probably be in charge of posting to social media accounts on several platforms, according to a set schedule. You may or may not be responsible for creating those accounts and schedule. You may be responsible for creating content, or overseeing editors in creating a content calendar. You may also write for or oversee a blog. You might be responsible for creating your company's "voice" and social media personality. You will likely be expected to know more about social media than your supervisor does.
Other likely titles for the same job include director or manager of social media marketing, of social media communication, of social media relations, or of social media strategy.
Brand Manager
As a brand manager or brand ambassador, you might also be posting to a group of social media accounts (with or without a blog), but you are more likely to be directly involved in advertising. Rather than running communications directly, your team might be closer to sales and marketing. Content manager or content strategist might also mean the same thing.
Engagement Coordinator
If you are an engagement coordinator (or manager), you will not only be in charge of your company's social media messaging, you'll also be responsible for guiding the online behavior of the public. You will be executing (and possibly creating) a marketing strategy that involves getting members of the public to answer back, re-share or re-Tweet your content (so it goes viral), or provide your company with information it can use later to improve your service and drive your sales.
You might also call yourself a director of community, an interactive media associate (or coordinator, or manager), or an internet marketing manager.
More Social Media Job Titles
Blogger
Brand Ambassador
Brand Manager
Community Manager
Content Manager
Content Strategist
Digital Communications Professional
Digital Content Manager
Digital Media Manager
Digital Media Producer
Digital Media Supervisor
Director of Community
Director, Communications Planning
Director, Online Communications
Director, Social Marketing and Brand Communications
Director, Social Media Marketing
Director of Social Media
Director of Social Media Communications
Director, Social Media Relations
Director of Social Media Strategy
Engagement Coordinator
Engagement Manager
Interactive Media Associate
Interactive Media Coordinator
Interactive Media Manager
Internet Marketing Coordinator
Internet Marketing Manager
Manager Digital and Social Media
Manager, Social Media
Multi-Media Communications Specialist
Online Content Coordinator
Social Media Account Executive
Social Media Analyst
Social Media Assistant
Social Media Associate
Social Media Coordinator
Social Media Designer
Social Media Editor
Social Media Executive
Social Media Marketing Coordinator
Social Media Manager
Social Media Producer
Social Media Specialist
Social Media Strategist
Job Title Samples
​Sample job titles and job title lists categorized by industry, type of job, occupation, career field, and position level.
Related Articles: List of Social Media Skills | Social Media Interview Questions
Read More: Social Media Manager Cover Letter | Social Media Manager Resume