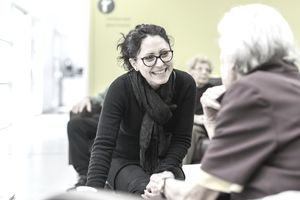 A social worker helps people cope with challenges they are facing in their lives. Some, called clinical social workers, are therapists who diagnose and then treat individuals who have mental, behavioral, and emotional disorders. Earnings, job duties, and job outlook differ based on the population a social worker serves and his or her work environment.
Quick Facts
2016  median annual salaries of social workers by area of specialization:

Child, Family, and School: $ 43,250
Mental Health and Substance Abuse: $42,700
Healthcare: $53,760
All Other Areas: $60,230
The Number of people working in this profession by specialty (2014):

Child, Family, and School: 305,000
Mental Health and Substance Abuse: 118,000
Healthcare: 160,000
All Other Specialties: 66,000

Most jobs are full time and sometimes include work on weekends, evenings, and holidays.
The job outlook for this occupation varies by specialty but is good overall. The U.S. Bureau of Labor Statistics predicts that, in general, employment of social workers will grow faster than the average for all occupations through 2024. Child, family, and school social workers will experience growth that is as fast as the average for all occupations while employment of health care and mental health social workers will grow much faster than the average.
Roles and Responsibilities
These are some typical job duties we found in online ads for social work jobs on Indeed.com:
"Provides mental health counseling to individuals, groups or families" (Clinical Social Workers Only)
"Conducts initial assessments"
"Communicates with teams"
"Provides crisis intervention as needed"
 "Refers consumers to appropriate treatment services as indicated"
"Assures maintenance of all case files and other records in strict compliance with policy, regulation, and procedure"
"Coordinates treatment planning and maintains ongoing contact with outpatient providers for continuing care of patient"
"Actively participates in ongoing training as needed to meet all certification standards and credentialing policies"
Education, Training and Licensing Requirements
To become a social worker you will have to go to college. For an entry-level job, you will need at least a bachelor's degree in social work (BSW), but you may be able to get a job with a degree in psychology or sociology. Some jobs require a Master's Degree in Social Work (MSW), and if you want a career as a clinical social worker, this advanced degree is required.
All states and the District of Columbia require social workers to be either licensed, certified, or registered. Requirements vary by state and apply to practice and use of professional titles. See the Social Work Career Center for a list of state licensing agencies. Find comprehensive information on social work education, training and licensing in the article "How to Become a Social Worker."
What Soft Skills Do You Need to Succeed?
Those who want to become social workers should bring with them certain soft skills. One typically acquires these personal qualities outside the classroom. Some of them are:
Service Orientation: A strong desire to help other people is essential.
What Will Employers Expect From You?
To find out what characteristics employers are looking for in job candidates, we turned to some actual job announcements on Indeed.com:
"Excellent verbal and written communications skills"
"Demonstrates autonomy, organization, assertiveness, and flexibility and cooperation in performing job responsibilities"
"Willingness to learn, excellent written and verbal communication skills, high-energy person, computer literate"
"Must be multi-culturally sensitive to the needs of consumers in treatment"
"Proven ability to intelligently manage and troubleshoot operational issues and effectively manage and prioritize projects as they arise"
Is This Occupation a Good Fit for You?
Holland Code: SIA (Social, Investigative, Artistic)
Take the Quiz: Should You Become a Social Worker?
Occupations With Similar Tasks
|   | Description | Median Annual Wage (2016) | Minimum Required Education/Training |
| --- | --- | --- | --- |
| Mental Health Counselor | Helps people with their emotional and mental disorders | $42,840 | Master's Degree in a Mental Health Related Discipline |
| School Counselor | Works with students, helping them succeed or overcome academic and social problems. | $54,560 | Master's Degree in School Counseling |
| Marriage and Family Therapist | Provides therapy to individuals, couples, and families | $49,170 | Master's Degree in Marriage and Family Therapy |
| Probation Officer | Monitor people who are on probation instead of in jail  | $50,160 | Bachelor's Degree |
Sources:
Bureau of Labor Statistics, U.S. Department of Labor, Occupational Outlook Handbook, 2016-17 (visited July 7, 2017).
Employment and Training Administration, U.S. Department of Labor, O*NET Online (visited July 7, 2017).