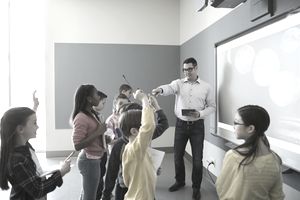 When applying for a job as a special education teacher, your resume is an important part of the job application process. In your resume, be sure to emphasize your education and certifications, as well as all previous classroom experience.
Read below for even more tips on writing a strong special education teacher resume. Also see below for a sample special education teacher resume. Use this sample as a guide and edit it to fit your situation and desired teaching position.
You should also consider preparing a cover letter specifically tailored to the position you're applying for, and the resume you are submitting.
Tips for Writing a Special Education Teacher Resume
Consider a resume summary. Consider including a resume summary at the top of your resume. This is a great way to include a brief statement of your teaching philosophy, and emphasize what makes you a great special education teacher.
Highlight your education and credentials. Teaching jobs typically require specific degrees and certifications, so be sure to highlight your education. Include an "Education" resume section towards the top of your document, so it is one of the first things an employer sees.
Include all teaching experiences. It is essential to highlight all your teaching experience, especially your experience working in special education settings. If you have limited teaching experience, you can also include internships, volunteer work, and co-curricular activities that are relevant to teaching.
Emphasize your accomplishments. Rather than simply state your duties under each work experience, also include specific accomplishments or successes. You might mention that you helped improve student test scores, or include information or quotes from your supervisors' evaluations of your classes. When possible, include data to show your successes.
Tailor your resume to fit the job and school. Individualize each resume to fit the specific job, as well as the school. Include keywords from the job listing in your resume (you might include these words in your resume summary or job descriptions). If the job requires particular skills, be sure to highlight these in your resume.
Special Education Resume Example
FIRSTNAME LASTNAME
123 East St.
New London, CT 06320
(111) (555-1234)
firstnamelastname@email.com
RESUME SUMMARY
Experienced, award-winning teacher with fifteen years of experience working with special education students. History of improving test scores in reading and math. Run well-organized classrooms focused on both classroom success and achieving individualized learning goals.
EDUCATION
Master of Education (20XX)
Concentration in Special Education
XYZ University, Hartford, CT
GPA: 3.9
Bachelor of Arts (20XX)
Major: Psychology
ABC College, Albany, NY
Connecticut Teaching Certification – Special Education Credential
EXPERIENCE
Special Education Teacher
ABC Charter Elementary School
Hartford, CT 
September 20XX - Present 
Develop and implement lesson plans for class of fifth-grade students with high-functioning autism, speech impairment, dyslexia, and other learning disabilities
Differentiate activities and goals to meet each student's individual needs and abilities
Write and administer tests and evaluations adapted to the abilities of each student
Achieved average of 25% improvement on reading and math exams
Engage in regular dialogue with parents, administrators, and various service providers to ensure student success inside and outside the classroom
Special Education Intern
A+ Learning Center
Hartford, CT
September 20XX – August 20XX
Adapted middle school English and History curriculum materials to suit students with high-functioning autism, speech impairments, and various learning disabilities
Ran all pull-out testing for students with special needs
Ran seminar for teachers throughout the greater Hartford area on how to best implement these tailored curricula in their classrooms
Substitute Teacher 
XYZ Middle School
Simsbury, CT
November 20XX – July 20XX
Provided instruction in both special and general education for students ranging from fifth through eighth grade
Awarded substitute-of-the-year for ability to maintain a positive learning environment through behavioral management strategies
LANGUAGES
Fluent in English and Spanish