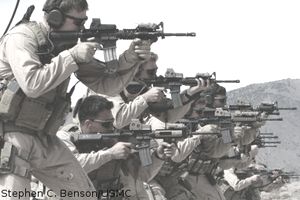 The Marine Corps is continuing to expand its special operations command, and now male Marines in any MOS can apply (female Marines may apply for personnel and command functions). Previously, the command accepted only Marines in the infantry field and field radio operators.
To qualify to become a Special Operations Marine, Marines must meet the following minimum qualifications:
Be in the rank of Corporal, or above (exceptional Lance Corporals are sometimes selected).
Have a minimum of 105 on the GT composite score of the ASVAB.
No nonjudicial punishments for the past year, and no more than two NJPs during the current enlistment contract (Note: This is expected to change to no NJPs period, during the entire career sometime later in 2009).
Must achieve a "first class" score on the Marine Corps Physical Fitness Test (Note: While a "first-class score" is the minimum acceptable, the average SPEC Ops Marine PFT score is 279. Marines who want to successfully complete the training program should strive for a score of 270 to 275.
Must achieve a second-class score on the Marine Corps Combat Water Survival Test (including 30 minutes of treading water).
Must be a US Citizen.
Must be eligible for a Secret Security Clearance.
Must pass an intelligence test and a psychological evaluation.
Training
Marines who pass the administrative screening attend the three-week MarSOC Assessment and Selection Course.
Between 100 and 120 Marines attend this course at a time, and usually only 80 to 85 graduate.
Those who make it through Assessment and Selection proceed to the seven month Marine Corps Individual Training Course. This training pipeline is rumored to be among the toughest in the Marine Corps. During the course, prospective Spec Ops Marines learn about foreign weapons, tactical communications, fire support, force protection, light infantry tactics, medical training, and internal defense doctrine.
The course concludes with a three-week practice special operations mission.
Marine Raider Occupations Consist of the Following:
Critical Skills Operator
Critical Skills Operators (CSOs) and Special Operations Officers (SOOs) are assigned to billets at the team, company, and battalion levels. Enlisted Marines are designated CSOs and awarded the 0372 Military Occupational Specialty (MOS). Officers are awarded the Primary MOS (PMOS) of 0370 after they successfully complete the selection process. Officers and CSOs can stay with MARSOC units for the duration of their Marine Corps career.
Special Operations Capabilities Specialist
Special Operations Capabilities Specialists (SOCS) are Combat Support Marines that are able to join MARSOC. SOCSs are operational and tactical force multipliers and frequently deploy alongside CSOs. SOCS billet fields include Intelligence, Communications, Explosive Ordnance Disposal, Dog Handlers, and Fire-Control Specialists. SOCSs are awarded the additional MOS of 8071, and return to the operating forces after an extended tour of service with MARSOC.
Special Operations Combat Service Specialist
Special Operations Combat Service Specialists (SOCS-Ss) are Combat Service Support Marines who serve one standard tour with MARSOC in their primary MOS, such as Motor Transport or Logistics.
Their training includes core skills for joint and inter-agency work as well as enhanced SOF combat skills training to enable their successful integration in special operations environments.