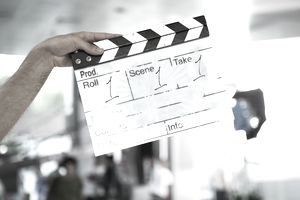 Television and film producers are the unsung heroes of any movie, TV program, commercial, etc. Some of the tasks producers may handle include managing schedules, coordinating locations, overseeing script rewrites, and arranging for financing. If there's a problem to solve or a question to answer, producers take the lead. As you can see, there are many different potential responsibilities that can be part of the producer role.
See below for a list of the five biggest skills producers need to have, as well as a full list of skills required from producers. 
How to Use Skills Lists
You can use these skills lists throughout the job search process. First, you can use these skill words in your resume. In the description of your work history, you might want to use some of these keywords to help your application get picked for an interview.
Second, you can use these in your cover letter. In the body of your letter, you can mention one or two of these skills, and give a specific example of a time when you demonstrated those skills at work. If there are specific skills mentioned in the job posting, be sure to highlight those in your letter.
Third, you can use these skill words in your job interviews. Make sure you have at least one example of a time you used each of the top five skills listed here to share with employers.
Of course, each job will require different skills and experiences, so make sure you read the job description carefully, focus on the skills listed by the employer, and tailor your resume and cover letter accordingly.
Also, review our lists of skills listed by job and type of skill.
Top 5 Producer Skills
Organization / Scheduling 
Consider the number of people involved in a film-based project. From script doctors to storyboard artists to actors to craft services to editors, the staff required is huge. Producers are often responsible for hiring.
Then, producers need to keep both staffers and the project on track. They create schedules and share information so everyone knows where they need to be and what they need to do. Organization is vital to this role. Come prepared to interviews with examples of times you've created schedules and kept projects on deadline. 
Budgeting 
Once financing is arranged, producers need to ensure that the movie or TV show stays within its budget. Producers help set a budget for every department, and then track spending as well. If you're applying for a job, mention the size of a budget you've mentioned, as well as how you dealt with any budget-related problems. 
Problem Solving
Unexpected problems are common during filming (as well as during the planning stages and post-production). Maybe an actor gets injured, or a location turns out not to work. The script may need unexpected rewrites, or there could even be a transportation strike in the city during filming. Producers are responsible for removing roadblocks and coming up with new plans that get around problems. When people have questions or concerns, producers have answers. In interviews, provide clear examples of your problem-solving abilities.
Multitasking 
Because producers wear so many hats, and are responsible for many varied aspects of a production, multitasking is an essential skill. A producer may be working on the budget in the morning, and scheduling auditions in the afternoon. Being able to easily juggle many responsibilities, and switch from one task to another, is essential. 
Communication 
Producers need to have strong written and verbal communication skills. In your job application, you can talk about your communication style. Share examples of how you've shared information and handled communication break-downs. 
Television / Film Producer Skills
A - C
Aesthetic Judgement
Analytical
Appraising Talent
Assertiveness
Assigning Tasks
Booking Guests
Budgeting
Closing Deals
Coaching
Creativity
Critical Thinking
D - L
Delegating
Detail Orientation
Editing
Estimating Costs
Evaluating Screenplays or Scripts
Explaining
Flexibility
Generating Story Ideas
Interpersonal
Interviewing
Leadership
Listening
M - P
Maintaining Relationships with Vendors
Managing Teams
Mentoring
Motivating Others
Negotiating
Networking
Organizational
Pitching Concepts to Prospects
Planning
Presenting
Prioritizing
Problem Solving
Project Management
R - W
Recruiting Talent
Research
Reviewing Modifications to Screenplays
Sales
Scheduling
Schmoozing
Securing Financing
Securing Rights to Intellectual Property
Selecting Stories
Social Media
Supervisory
Teamwork
Time Management
Verbal
Working in Fast Paced Environment
Working Under Pressure
Writing
Read More
Related Articles  
How to Include Keywords in Your Resume 
List of Keywords for Resumes and Cover Letters