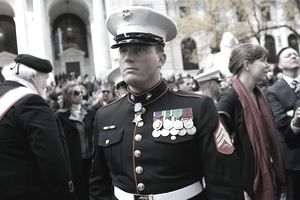 Arguably, the two "best known" veterans associations are also the oldest - the American Legion and the Veterans of Foreign Wars (VFW) .
The American Legion
The American Legion (sometimes referred to as simply "The Legion") began way back in World War I as a group of twenty officers who served in the American Expeditionary Forces (AEF) in France - AEF Headquarters had asked these officers to suggest ideas on how to improve troop morale.
One officer, Lieutenant Colonel Theodore Roosevelt, Jr. (eldest son of the 26th President), made the proposal of an organization of veterans. In February, 1919, this group formed a temporary committee, and selected several hundred officers who had the confidence and respect of the whole army. The following month, about 1000 officers and enlisted men attended the first organizational meeting, known as the Paris Caucus.  At this meeting, the group adopted a temporary constitution and the name "The American Legion."
The American Legion was chartered by Congress in 1919 as a patriotic, mutual-help war-time veteran's organization and the first American Legion post in the United States was General John Joseph Pershing Post Number 1 in Washington, D.C., organized on March 7, 1919, and obtained the first charter issued to any post of the Legion on May 19, 1919.  Since then, the American Legion has evolved from a group of war-weary veterans of World War I into one of the most influential nonprofit groups in the United States - the American Legion is a community-service organization which now numbers over 2.4 million in 14,000 posts worldwide.
The posts are organized into 55 departments: one each for the 50 states, along with the District of Columbia, Puerto Rico, France, Mexico and the Philippines.
Eligibility for American Legion membership is limited to those honorably discharged veterans and current personnel of the United States Army, Navy, Marine Corps, Coast Guard or Air Force who served at least one day of active duty during any of the following periods:
World War I: April 6, 1917 to November 11, 1918
World War II: December 7, 1941 to December 31, 1946 (except that for the U.S. Merchant Marine eligibility dates are December 7, 1941 to August 16, 1945)
Korean War: June 25, 1950 to January 31, 1955
Vietnam War: February 28, 1961 to May 7, 1975
1982 Lebanon War and Operation Urgent Fury (Grenada): August 24, 1982 to July 31, 1984
Operation Just Cause (Panama): December 20, 1989 to January 31, 1990
Gulf War/ War On Terror (Desert Shield, Desert Storm, Operation Enduring Freedom, and Operation Iraqi Freedom): August 2, 1990 to today
The VFW traces its roots back to 1899 to two veterans organizations: 
American Veterans of Foreign Service - formed for veterans of the Spanish–American War (1898)
National Society of the Army of the Philippines – formed for veterans of the Philippine–American War (aka  Philippine Insurrection) (1899-1902)
These two were founded as local organizations to secure rights and benefits for their service, as many had arrived home wounded or sick, and there was no medical care or veterans' pension for them; they were left to care for themselves.
The Veterans of Foreign Wars
The VFW was created on September 17, 1914 at a conference at the Schenley Hotel in Pittsburgh, Pennsylvania where the two veterans organizations merged  into one, and chapters were formed in Colorado, Ohio and Pennsylvania.
 Of the three posts that claim to be the first, the VFW national organization recognizes the Denver Post as being first; it is now officially "VFW Post 1.
By 1915, membership grew to 5,000; by 1936, when it became a government-chartered non-profit organization, membership was almost 200,000. Today, membership stands at around 1.4 million (though, National membership in VFWs has fallen from 1.8 million in 2004).
To be a member of the VFW, the individual must be a U.S. citizen or national with an honorable discharge from the U.S. military, or currently serving in the United States Army, Marine Corps, Navy, Air Force, or Coast Guard. Membership also requires military service overseas during an operation or conflict and decoration with an Armed Forces Expeditionary Medal, a campaign medal (or ribbon).
Both the American Legion and the VFW have extended beyond the realm of simply being veterans helping fellow veterans - from their beginnings of providing financial, social, and emotional support to members of the United States Armed Forces, veterans, and their dependents, and being leaders in community involvement in such areas as mentoring youth groups, helping in community food kitchens, and volunteering in blood drives (to give a few examples).