The Gift of Recognition: 5 Tips for Meaningful Employee Recognition
Use These 5 Tips to Engage, Reward, Recognize, and Appreciate Your Employees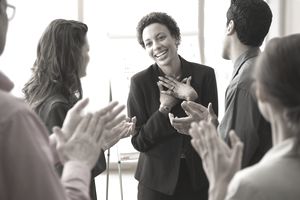 As you approach the holidays, gift-giving is frequently top-of-mind, but the intangible gift of employee recognition is one of the most powerful gifts you can give. This is true from our research with over 3,000 people across the US, UK, Germany, France, and China. 86 percent agreed that when people feel more appreciated, they, in turn, feel more engaged at work.
And this is no small factor since engagement translates into people committing their discretionary time and effort at work.
  It is this employee contribution of time, energy, and commitment which makes the difference in how successful your organization will become.
In this same body of research, the concept of Workplace Vitality™ was discovered. Workplace Vitality™ describes a workplace that is vibrant, thriving, and alive with potential. It is a place at the intersection of engagement, collaboration, well-being, and productivity.
Based on the importance of recognition to participants, providing appreciation has an especially powerful effect on these factors—and in turn on Workplace Vitality™.
So what is meant by the gift of recognition? Recognition is fundamentally about acknowledging a coworker and appreciating them and their work. All employees want to know they matter and they are important to the overall enterprise or goal.
Recognition gives them the gift of knowing that their contribution matters to the team, to the leader, and to the organization.
Here are five ways that employee recognition will make the most difference in your organization.
Recognition Should Connect to the Bigger Picture
In particular, recognition is a gift when it connects people to a shared objective. Based on our research, we define collaboration as teamwork in pursuit of a common goal.
In addition, we have found that people are most motivated by feeling connected to a broader purpose and overarching goal.
For this reason, leaders should provide recognition that acknowledges not only the work itself but also how the work contributes to the team's shared goals and the organization's priorities. For example, the leader can provide appreciation, not just for the employee's brilliantly completed marketing materials, but also the contribution to reaching customers who will benefit from the firm's products.
It is also powerful to actively encourage team members to regularly express appreciation for each other, building a culture where recognition isn't coming only from the leader, but also regularly from peers and coworkers.
Base Recognition on an Understanding of the Employee's Work
Recognition is also most meaningful when it is based on real knowledge of the work the employee is doing. Everyone knows the leader who lavishes employees with statements like "great job" or "well done" but doesn't really have a grasp of the employee's efforts.
This kind of empty praise is actually quite de-motivating for employees. Our research on engagement defines it as an emotional commitment that translates into work effort.
Recognition and accountability are two sides of the same coin, and recognition is hollow without a sense that the employee's tasks matter enough for the leader to know the work and hold the employee accountable.
Providing meaningful feedback that engages the heart and is based on a legitimate understanding of the employee's contribution is important to true engagement.
Recognition Should Acknowledge the Whole Person
One of the facts that emerged from the research was the priority of health, happiness, and work-life fulfillment in order for employees to achieve a sense of well-being. In fact, recognition is linked here as well.
The most effective leaders are tuned into employees as whole people for whom work is a part of life. Recognition doesn't have to be only about work or task. You can also relate it to an employee's efforts outside of work.
Perhaps an employee is doing meaningful volunteer work or succeeding in developing his or her skills by taking classes outside of work or focusing on his or her health by quitting smoking. Expressing informal appreciation and acknowledgment of employees' efforts can go a long way toward their feelings of overall fulfillment.
Recognition Should Translate to Removing Barriers
Almost every business focuses on productivity, and in our research, we found it was another factor – in addition to engagement, collaboration, and well-being—toward creating Workplace Vitality™.
Here too, there is a connection to recognition. One way to provide recognition is through making it easier for employees to perform their work. When leaders remove barriers and focus on ensuring that employees have the tools they need to get their work done, it is a tangible contribution to an employee's total experience of work.
Recognition Should Happen Throughout the Work Experience
Many of these elements of Workplace Vitality™ and recognition come together in shared interactions and great moments together. When leaders interact with employees informally over a cup of coffee, or when a team shares time together in a casual interaction at a break, some of the most important times for recognition take place.
People should feel appreciated throughout their work experience, and not just at performance review time or during special seasons.
Ultimately, providing recognition is an expression of gratitude for something the employee has accomplished, but it also holds the seeds of the future and the belief that a leader has for the employee's continued contribution and performance going forward.
It is a gift to the employee in that it acknowledges good work, a positive impact on the team, and a contribution that matters to the organization, and these are gifts meaningful for employees for any day—or holiday.