The Smart Crowd (Formerly VirtualBee) Work at Home Company
What You Should Know About The Smart Crowd Data Entry Work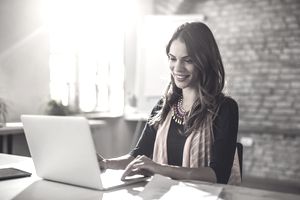 The Smart Crowd is a crowdsourcing company that used to be known as Virtual Bee. The company uses a workforce of home-based independent contractors to securely enter client data. The flexible work schedule is designed for people who prefer to work on their own terms. Whether you choose night or day, two hours or six, you control your schedule.
Types of Work-at-Home Opportunities at The Smart Crowd
Data services involve typing, data cleansing, digitizing data, updating data and data tagging.
Home-based data entry operators log on to the The Smart Crowd system and choose data entry tasks offered to them in their areas of expertise. Workers see an image of the data and then must enter it accurately.
Pay and Benefits
All data-entry keyers are hired asindependent contractors. This means there are no benefits and no guarantee of minimum wage. While the payment may seem low, if you understand how and what data entry companies pay, you'll see it is in line with other companies. Payment is on a per piece basis, and different types of data entry pay at different rates. Expect the per piece rate to work out to about $5 to $6 per hour.
The Smart Crowd pays weekly, but the minimum payout amount is $30, so until you accrue that much, the earnings are held in your account. Hours are always flexible, but you may find that there are certain days of the week or periods during the year when work is not available.
Qualifications and Requirements
You must be at least 18 years old to work for The Smart Crowd. A score of 97 to 100 percent on the evaluation test is the main qualification for this job.
The company hires worldwide. However, the company divides its workers into two groups—one is for those who reside in the continental United States and the second is for all international individuals.
Workers must maintain an uninterrupted presence in their country of residence throughout the duration of their work for The Smart Crowd.
Working for The Smart Crowd requires a home computer with a high-speed internet connection and a web browser with JavaScript enabled. Basic skills include:
ability to type quickly and accurately
good spelling, grammar and punctuation skills
ability to work quickly
good comprehension of text you read
Applying to The Smart Crowd
Click "Join The Smart Crowd" at the bottom of The Smart Crowd website and fill in the short form with basic information about yourself.
Next, answer questions about your demographics, education, areas of expertise and language skills. The company uses this information to match you with tasks that are appropriate for your skill sets. Based on the information you enter, you are offered one or more placement evaluations. You must complete at least one placement evaluation before you can be considered for any work. Depending on how well you do on your evaluations, various small jobs may be offered. The higher you score, the better the chance you will be offered work. You are only allowed to work on tasks related to your areas of expertise.
Disclaimer: Ads for home-based jobs or business opportunities on this web page are not necessarily legitimate. These ads are not pre-screened and appear on the page due to having similar keywords to the text on the page. More on sponsored links to work-at-home jobs.