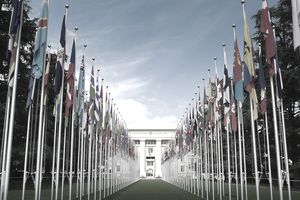 The United Nations was established in 1945 to replace the League of Nations. Franklin D. Roosevelt first coined the term 'United Nations' as a term to describe the Allied countries. The United Nations Charter was established to maintain international peace and to promote cooperative solutions to international economic, social, and humanitarian problems. The U.N. Headquarters is in New York City and it resides in international territory.
It also maintains main offices in Geneva, Nairobi, and Vienna.
Jobs at the United Nations span a wide gamut of disciplines and geographies. Paths as well as functions, departments, geographic locations, and even organizations or fields of work can change during a career with the U.N. With almost 44,000 staff from 193 Member States, interns can find themselves working on multi-cultural teams with people from all backgrounds and cultures. The United Nations edict is to seek solutions to complicated problems; from helping to end conflicts and alleviate poverty, to combating climate change and defending human rights. The issues are as diverse as the careers are. Staff member, with assistance from Interns, do everything from monitor elections, help disarm child soldiers, coordinate humanitarian relief efforts, and provide logistical support to carry out our complex mandates.​​
The United Nations offers semester-long full and part-time internships during the Fall, Spring, and Summer terms for undergraduates, graduate students, and recent graduates.
Interns there participate in a variety of activities in support of the department for which they work. The nature of internships depends on the needs of the department the intern is working with. Searching for internships at the U.N. involves using the search engine on the U.N. website. There are job openings for specific positions as well as generic job openings, which are used to create pools of candidates for selection across the Organization.
Generic job openings contain the following text "This Job Opening is for roster purposes". The application process is the same for both types of job openings, whether position-specific or generic.
Internship Objectives
Expose students to the work of the United Nations
Encourage them to consider careers in the U.N. or related causes
Provide a framework for students from diverse academic backgrounds to utilize theoretical knowledge in practical work assignments
To aid the United Nation to achieve its mission.
Internship Qualifications
Applicants should be enrolled in a degree program in an undergraduate or graduate school during the internship or should be a recent graduate with a demonstrated interest in the United Nations and international development.
Locations
New York City; Bangkok, Thailand; Beirut, Lebanon; Santiago, Chile; Nairobi, Kenya; Geneva, Switzerland; Vienna, Austria; Addis Ababa, Ethiopia.
How to Apply
To apply for internships with the U.N., please visit their website.
Applicants should submit a current resume and cover letter online, with the letter being addressed to "Intern Administrator." Only Online Applications will be considered. The resume and cover letter should be in Word or pdf format.
Only completed applications, with both a resume and cover letter, will be considered.
International Opportunities
The United Nations has a truly global workforce. In the last decade, the Organization underwent a dramatic transformation to be more responsive to needs around the world. Today the U.N has a more reactive field-based operation, with 60 per cent of its staff working in locations all over the world. Efforts such as the Office for the Coordination of Humanitarian Affairs, the Office of the United Nations High Commissioner for Human Rights, the United Nations Office on Drugs and Crime, and the United Nations Environment Program have regional offices all over the world to allow them to respond rapidly to emerging issues that call for their expertise and assistance.
Due to the International nature of its' mission, there is a myriad of Internship opportunities abroad with the United Nations through their offices in Bangkok, Nairobi, Geneva, Beirut, and Santiago.
These can run the gamut from Economic Affairs in Lebanon to Humanitarian Affairs in Thailand to Information Technology in Kenya.