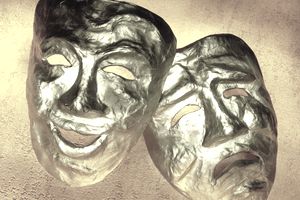 The following is an example of an international curriculum vitae (CV) for a theater professional.
International Theater Curriculum Vitae
Name: Judy Tan
Race: Chinese
Ethnic Group: Teochew
Languages Spoken: English, Mandarin, some local dialects
Education: Bachelor of Arts (English Language Studies/Drama Studies) University of Queensland, Australia, ABRSM Music Theory Grade 3 and 5
Telephone: +1111111111
Email Address: emailaddress@company.com
Performing History
19XX – 19XX
Took courses in Theatre Studies and Drama at Victoria Community College, including Shakespeare Today, Set and Sound, and Community Theater.
Assistant stage manager in production under Dramaplus Arts, script by Jonathon Lim and directed by Roger Jenkins.
20XX – 20XX
Majored in Drama Studies at University of Queensland, taking courses in Theater Survey, Performance Concepts, Advanced Acting and Scene Study, and more.
Received Martin Mahy Award for Excellence in Drama Studies, 20XX.
Co-wrote and performed in an award-winning University production about Pauline Hanson's political campaign.
Scripted and directed a 20-minute play about genetic engineering for University's genetic engineering international conference.
Enrolled in physical theatre course held by ZenZenZo, a Brisbane local physical theatre troupe, which bases its performance techniques on the Japanese art form, Butoh.
Trained in vocal and speech techniques, based on Linklater's studies on voice production and linguistics.
20XX – 20XX
Employed as performing artiste in Singapore Armed Forces, Music and Drama Company (SAF MDC), contributing as dancer, actor, anchor host, drama i/c, director, and drama instructor.
As anchor host, hosted multiple events, including the Second Annual International Counter-Terrorism Conference, with a 1000+ audience.
Co-wrote dozens of shows, skits, and hosting material.
Supervised all junior artistes, developing and leading orientation and various training sessions for dozens of new performers.
Simultaneously freelanced outside of MDC as host, singer, dancer, and actress.
20XX
Guest-starred in TCS 5's drama series "Lifeline."
Performed in "A Little Night Of Drama" at the Inauguration Ceremony for the opening of the New Drama Center, directed by Goh Boon Teck, Toy Factory Productions Ltd.
Performed as one of the 'ChioBus' in Sebastian Tan's "Broadway Beng", Kuala Lumpur Production, directed by Selena Tan, Dream Academy.
Acted in a short film production for a local HD Panasonic Film Festival, titled "Sweet Pine Grove" produced by Blk A Pictures.
Sang in a local Chinese/Cantopop band (Typhoon Band) for 3 months at Club Babyface.
20XX
Performed in Toy Factory Productions Ltd's "TiTouDao" for one month, held in the New Drama Center, directed by Goh Boon Teck. Role: Swee Lian, Kim Kee, Ah Dui, Narrator, Siew Kin, Dancer.
Singer, "Singapore Day 20XX" in New York City, singer for the Musical Theatre segment, "Singapore Got Musical Meh?" written/directed by Jonathon Lim, Music arranged by Bang Wenfu.
Host for SAF formal dinner event "5th ASEAN Chiefs of Defense Force Informal Meeting", held at Asian Civilisation Museum on 2nd August.
Acted, sang, and danced in a mini-musical for SAF's NS40 show directed by Hossan Leong, held at Pasir Laba Camp.
Acted, sang, and danced in a medley of song and dance (featuring numbers from all ASEAN countries) in SAF's prestigious, high-profile ASEAN Annual Meeting.
Theater Skills
Review a list of skills to include in your CV or resume. Incorporating many of these "keyword" skills into your CV will convincingly demonstrate to talent scouts and casting directors that you are the well-rounded, talented professional they are seeking. Break a leg!
A - C
Adhering to Deadlines
Articulating Clearly
Attention to Detail
Blocking a Scene to Prescribe Movements and Positions of Actors 
Casting Performers for Productions
Communicating Through Physical, Non-verbal Expressions
Concentration
Conducting Audience Surveys
Constructing Sets
Controlling the Pace of Verbalizations
Costume Design
Creativity
Critiquing Performances
D - K
Dancing
Developing a Profile for a Character
Editing Scripts
Eliminating or Adopting Accents
Eliminating Personal Emotional Distractions
Evaluating Potential Scripts
Facilitating Audience Talk Backs to Gather Feedback
Flexibility
High Energy
Identifying and Resolving Problems
Improvisation
Interacting with Diverse and Challenging Personalities
Issuing Directions to Actors
L - R
Leadership
Lighting Design
Managing Performance Anxiety
Memorizing Lines
Multitasking
Organizational
Physical Stamina
Projecting One's Voice
Pronouncing Words in Foreign Languages
Providing Constructive Feedback
Public Speaking
Receiving Criticism Constructively
Researching Cultural and Historical Contexts for Productions
Resilience
Risk Taking
S - Z
Scheduling and Planning Rehearsals
Selecting and Securing Props Appropriate for Scenes
Set Design
Singing
Social Media
Stage Management
Strong Work Ethic
Taking Direction
Teamwork
Theater Production
Time Management
Video Filming and Editing
Working Cooperatively
Writing Character Analyses
Writing Reviews
Writing Scripts
Read More: Sample Curriculum Vitae | Writing Curriculum Vitae | FAQ: Curriculum Vitae or Resume?