Top 9 Jobs for Environmental Studies/Science Majors
Career Options for Environmental Studies/Science Majors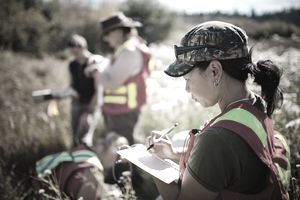 If you are fascinated by the physical world around you and the interplay between living things and the earth, Environmental Studies or Environmental Science (ES) may be the right major for you.  It will help if you are passionate about topics like sustainability, conservation, ecology, global warming and alternative energy sources.
Environmental Studies majors need the scientific aptitude to understand and apply complex concepts in biology, chemistry, geology, and physics.
  You will learn to apply both quantitative and qualitative analytical skills to solving problems and interpreting research data.  Your creativity will be tapped as you design research models to study environmental issues.
During your ES studies, you will cultivate strong writing skills as you compose policy papers, research reports, case analyses, and essays. You will hone presentation skills while sharing research findings and environmental perspectives with classmates and faculty.  ES majors develop the ability to take a position on an issue and defend their stance.
Environmental Studies/Science is a very broad field with many potential professional roles for you to play.  So your ultimate career path will depend on the unique configuration of skills, interests, and values which you bring to the table. Here are a few possibilities to consider as you explore the options.
Top 9 Jobs for Environmental Studies/Science Majors
Environmental Consultant
Organizations of all kinds need to prepare environmental impact studies when they are planning to develop virgin land or use currently developed land for an alternative purpose.  Environmental consultants use analytical tools developed by Environmental Studies majors to assess how development projects might impact the water, soil, air or wildlife in the area.
  When problematic impacts are identified, they suggest ways to ameliorate the potential effects.  In other cases, consultants are brought in to address existing problems like pollution and to recommend solutions.
Consultants tap the writing and presentation skills honed as ES majors to compose technical reports and deliver recommendations to clients.  
Conducting research and assessments for governmental, consulting and non-profit firms as an environmental scientist is a logical and viable option for Environmental Studies majors.  The skills that ES majors develop through internships and field work, as well as the hands on laboratory work involved with the degree, provide an excellent foundation for entry level jobs.  
Environmental Studies majors are taught to gather data and interpret it with statistical tools.  They have mastered the scientific writing skills required to produce research reports and the presentation skills vital to sharing information with colleagues.
Environmental Educator
Environmental Studies majors gain a broad-based perspective about environmental issues which will serve them well as an environmental educator.  Educators must be able to digest available information to learn about the environment surrounding their geographic area of practice.
  ES majors are trained to collect and interpret information and to conduct field work, all vital functions to the role of an environmental educator.  
The sincere fascination with nature possessed by most ES majors will help them to convey a sense of excitement in their interactions with visitors or students.  Public speaking skills polished on campus will help the educator provide dynamic presentations.
Public Relations Specialist
Environmental organizations need to influence public perceptions to gain political and financial support for their initiatives.  Public relations specialists or communications staff use the knowledge acquired as Environmental Studies majors when generating press releases about programs and activities at their employer or client organizations.
PR specialists use writing skills cultivated through their ES studies to develop content for the websites of environmental entities and to help compose text for fundraising brochures and letters.
Environmental Attorney
Scientific knowledge is essential for attorneys who are working with clients on environmentally related cases.  Environmental attorneys interview expert witnesses like environmental engineers, biologists, chemists and environmental scientists as they prepare and litigate their cases.  They must interpret scientific material and evaluate the validity/reliability of those findings.  
Attorneys rely on the writing skills developed by Environmental Studies majors to compose legal briefs and other documents. They may help draft the language for environmental regulations if they work for governmental entities.
When environmental attorneys deliver their cases in court and convey information to judges and other legal officials orally, they tap the presentation skills mastered by ES majors.
Environmental Engineer
When technical solutions are required to resolve problems with environmental contamination or pollution, environmental engineers are often called upon to propose and implement those systems.   Environmental engineers draw upon knowledge of environmental science when designing environmental technology.  They tap the quantitative skills developed by environmental science majors when calculating the physical dimensions of systems.
Environmental engineers write proposals for projects and present their recommendations to clients.  They need to research and defend a position, collaborate with other professionals, devise solutions and present them in a clear, concise way, which are abilities honed during an environmental science education.
Sustainability Specialist
Organizations of all kinds have an increasing need to develop greener ways of carrying out their functions.  Sustainability specialists assess the environmental practices and impact of an organization. They recommend and implement strategies to conserve resources and limit environmental damage.
Knowledge of scientific methodology is essential to carrying out sophisticated assessments of the impact of current operations on the environment and determining what conservation benefits are derived when alternate processes are implemented.
Sustainability professionals tap the writing, presentation and interpersonal skills developed by ES majors to write proposals and urge colleagues to adopt alternative practices. They plan and organize projects to implement solutions.
To effectively target prospective donors for contributions to environmental causes, fundraisers must have a solid understanding of their organizations' goals and operations.  ES majors are well positioned to gain this knowledge and convey the benefits of supporting environmental initiatives.  
Fundraisers rely on solid communication skills to compose letters and make pitches to prospective contributors.  They must be well organized to orchestrate fundraising events and plan campaigns.
Policy Analyst
Generating realistic proposals for environmental policy requires an in-depth knowledge of scientific concepts.  ES majors possess the aptitude for learning new scientific information as well as a solid foundation in biology, chemistry, and physics.
Environmental Science majors have the research skills necessary to uncover information related to public policy recommendations.  They have the analytical and statistical skills needed to interpret and process that information.  ES majors have cultivated the technical writing skills needed to compose scientifically oriented policy documents. 
Environmental Job Titles
A  - E
Archaeological Technician
Archaeologist
Architect
Area Vertebrate Pest Advisor
Assistant City Manager for Sustainable Development
Biological Technician
Business Development Manager
Clean Energy Finance Manager
Deputy Director, Division of Lands and Waterways
Development Operations Assistant
Director of Institutional Giving
Director of Operations
Easement Program Stewardship Coordinator
Ecologist
Ecology Team Leader
Economist
Education Specialist
Electrical Estimator - Renewable Energy
Energy and Resource Conservation Manager
Energy Auditor
Energy Efficiency/Renewable Energy Subject Matter Experts
Energy Engineer
Environmental Analyst
Environmental Attorney
Environmental Biologist
Environmental Chemist
Environmental Compliance Manager
Environmental Compliance Technician
Environmental Consultant
Environmental Educator
Environmental Engineer
Environmental Health and Safety Specialist
Environmental Planner
Environmental Policy Analyst
Environmental Scientist
Environmental Technician
Executive Assistant
F - M
Federal Government Relations Director
Federal Policy Director
Field Research Assistant
Field Sample Handler
Field Supervisor
Financial Engineer
Fire Warden
Fish and Wildlife Biologist
Forest Restoration Crew Member
Forestry Technician
Geologists
GIS Specialist
Grant Manager
Hydrogeologist
Interagency Restoration Team Member
Junior Writer
Lab Technician
Land Conservation Fellow
Land Manager
Land Planning Analyst
Manager
Marketing and Communications Manager
Microbiologist
O - S
Outreach Coordinator
Park Resource Manager
Planning Manager Sustainable Business and Innovation
Project Manager
Project Monitoring Coordinator
Project Specialist
Regional Manager
Renewable Energy Field Engineer
Research Associate
Research Economist
Research Specialist
Resource Conservation Marketing Specialist
River Steward
Senior Conservation Director
Senior Director of Development
Senior Regulatory Specialist
Senior Wild Animal Keeper
Soil Conservation Technician
Solar Consultant
Solar Energy Appointment Setters
Solar Energy Design Engineer
Solar Energy Sales Consultant
Solar Installer
Solar System Designer
Steward
Stewardship Assistant
Strategic Communications Manager
Sustainability Program Coordinator
Sustainable Agriculture Program Manager
Sustainable Design Specialist
T - Z
Trail Crew 
Water and Natural Resources Associate
Wetland Delineator
Wetland Scientist
Wildlife Rehabilitation Program Intern
Wildlife Rehabilitator
Additional Career Options
Information on the best jobs for college students and graduates in a variety of career fields.
Related Articles
How to Connect Your Major to a Career
Skills Listed by College Major