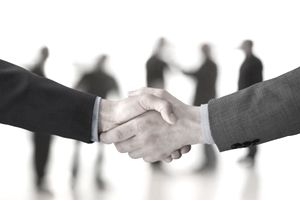 When changing industries, or jobs, it is important to include the skills you have developed that will easily transfer into this new position in your cover letter. Including examples of projects, teams, or trainings you've been a part, allows the company to gain a better understanding of your background, and determine the impact you'll make on the business. 
This cover letter example focuses on changing industries and emphasizes transferable sales skills.
Remember, this cover letter is a guide. It is important to tailor the letter to fit your situation and the job for which you're applying.
Transferable Sales Skills Cover Letter Example
Your Name 
Your Address 
Your City, State, Zip Code 
Your Phone Number 
Your Email 

Date 

Dear Hiring Manager,

I have developed strong sales skills that have enabled me to build a record of sustained sales increases. I thrive on challenge and change, and I look forward to new opportunities to build positive customer relationships every day.

I believe that as a Sales Representative for [Company], my energy, analytic skills, organizational abilities, and creativity in tackling problems will make a positive contribution. I am equally comfortable working independently to meet company goals, as well as collaboratively as part of a team. I have always been able to establish and maintain excellent relationships with clients and coworkers at all levels. My professional skills include:

Uncovering client needs and recommending appropriate products or services.
Selling solutions to customers and then backing up those sales with top-quality service.
Building relationships with coworkers, clients, and strategic partners.
Developing processes and strategies to increase referrals and revenue.
Accurately completing data research and analysis while demonstrating computer proficiency.

I would welcome the chance to provide you with additional information to supplement what appears in my enclosed resume. I am available for a personal interview at your convenience. I know you are busy and have many applications to review, so please let me know if you wish to further discuss your requirements and my ability to meet them.

Thank you for your time and consideration.

Sincerely,

Your Signature (typed letter)

Your Typed Name
How to Send an Email Cover Letter
If you're sending your cover letter via email, list your name and the job title in the subject line of the email message. Include your contact information in your email signature, and don't list the employer contact information. Start your email message with the salutation.