Transportation Job Titles and Descriptions
Jobs in Industries That Transport Passengers and Cargo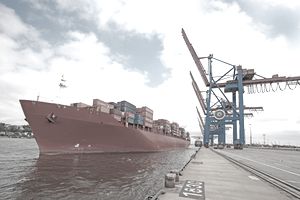 Transportation is a broad field that includes job titles ranging from aircraft pilot to yardmaster. Transportation employment includes jobs in industries that transport passengers and cargo via plane, rail, bus, boat, transit system, and other modes of private and public transportation. Transportation jobs might also involve scenic and sightseeing transportation.
The transportation and material moving sector also includes positions that support the industry.
For example, travel and tour agencies that book transportation and logistics staff that coordinate transportation are part of the transportation industry.
Read below for an extensive list of transportation job titles. Use this list when searching for a job in transportation. You might also use this list to encourage your employer to change the title of your position to fit your responsibilities.
Most Common Transportation Job Titles
Below is a list of some of the most common (and most in-demand) job titles from the transportation industry, as well as a description of each. For more information about each job title, check out the Bureau of Labor Statistics' Occupational Outlook Handbook.
Truck Driver
A truck driver transports goods from one place to another. Often, they move products from a manufacturing plant to a retail or distribution center. They need to have mechanical knowledge and be able to maneuver their vehicle.
They also need to be able to complete their drive within a given amount of time. Truck drivers spend lots of time away from home, and are often alone in the truck. They have to be comfortable with the irregular schedule and the physical demands of the job.
Bus Driver
Bus drivers might work for a school system, a private client, or the public (if they drive a city bus).
They are in charge of following a given route, picking up and dropping off clients, and arriving at places at a given time. Unlike truck drivers, bus drivers regularly interact with passengers, so they need strong customer-service skills.
Material Mover
Material movers and hand laborers move materials such as freight or stock. They might retrieve or unload trucks carrying materials. They may pack or wrap products as well, or even clean transportation equipment. While there are typically no formal education requirements, material movers often receive some training, and need physical stamina and strength.
Taxi Drivers and Chauffeurs
Taxi drivers and chauffeurs transport people to and from their destinations. They have to be good drivers, and know their way around the area in which they are driving. They often have to go through some form of training, but there are rarely education requirements. Taxi driver and chauffeur jobs require strong customer service skills.
Water Transportation Worker
Water transportation workers perform a variety of tasks. They operate and/or maintain vessels that transport people or cargo across bodies of water. There are many specific job titles within the broader job "water transportation worker," including merchant mariner, captain (or master), mate (or deck officer), pilot, sailor, ship engineer, marine oiler, and more.
While there are no education requirements for entry-level oilers and sailors, upper-level positions (such as engineers and officers) typically require specific certificates.
Wages and Salary
The median annual wage for transportation and material moving occupations was $30,730 in May 2016, which is below the median for all occupations of $37,040. On the higher end of the salary range, the median annual wage for heavy and tractor-trailer truck drivers was $41,340 in May 2016 and the median annual wage for airline and commercial pilots was $105,720 in May 2016.
Transportation Job Titles 
Below is an extensive list of transportation job titles, including those listed above.
A - D
Air Traffic Controllers
Aircraft Pilot
Airport Operations Crew Member
Automotive Mechanic
Automotive Service Technician
Bus Driver
CDL Driver
Cab Driver
Captain
Chauffeur
Conductor
Courier
Crew
Deck Officer
Deckhand
Delivery Drivers
Delivery Helper
Dispatcher
Distribution Center Manager
Distribution Director
Distribution Manager
Driver
Driver/Sales Representative
Driver/Sales Workers
E - L
Engineer
Equipment Director
Estimating Manager
Estimator
Expeditor
Fleet Coordinator
Fleet Manager
Flight Attendant
Flight Engineer
Flight Instructor
Fork Lift Operator
Gate Operations Staff
Helicopter Pilot
Import/Export Clerk
Import/Export Manager
Import/Export Supervisor
Industrial Tractor Operator
Inventory Control Analyst
Inventory Control Clerk
Inventory Control Manager
Inventory Control Supervisor
Locomotive Engineer
Logistician
Logistics Analyst
Logistics Coordinator
Logistics Manager
Logistics Specialist
M - Z
Maintenance Worker
Marine Cargo Inspector
Marine Oiler
Marine Operator
Materials Control Manager
Materials Handler
Materials Handling Supervisor
Materials Planner
Merchant Mariners
Motor Racer
Motorboat Operator
Operations Manager
Operations Security
Package Handler
Packaging Engineer
Pilot
Production Scheduler
Public Transportation Inspector
Rail Car Repairer
Rail Yard Engineer
Railroad Brake Operator
Railroad Conductor
Railroad Yard Worker
Refuse and Recyclable Material Collectors
Repair Worker
Route Driver
Route Supervisor
Sailor
Scheduler
Shipping and Receiving Clerk
Shipping and Receiving Supervisor
Shuttle Car Operator
Streetcar Operator
Subway Operator
Taxi Driver
Top Distribution Executive
Top Inventory Control Executive
Traffic Clerk
Traffic Director
Traffic Manager
Traffic/Rate Analyst
Traffic Supervisor
Train Crew Member
Train Operator
Transportation Analyst
Transportation Attendant
Transportation Broker
Transportation Director
Transportation Inspector
Transportation Manager
Transportation Planner
Transportation Supervisor
Travel Coordinator
Travel Manager
Truck Driver
Truck Driver Supervisor
Van Driver
Water Transportation Operator
Yardmaster
Job Title Samples
Sample job titles and job title lists categorized by industry, type of job, occupation, career field, and position level.