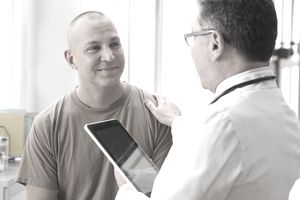 Health care for military personnel and their families isn't something that gets much coverage in the media, which means that most civilians don't know very much about it. But for military families, it's a big deal. As with almost every other aspect of the military, budget cuts are threatening to change the landscape of health insurance for military-affiliated families.
TRICARE has been a fantastic benefit for many families and has kept their medical expenses within budget.
But did you know that you have options within TRICARE that may fit your family's needs even better?
TRICARE Prime and TRICARE Standard offer two different approaches to healthcare. There are pros and cons to both options, and we're going to give you the scoop to help you make the best choice for your family.
TRICARE Prime
Active duty military members and their dependents are automatically enrolled in TRICARE Prime. However, you do have the option to switch to Prime or Extra.
With TRICARE Prime, you aren't required to pay a co-pay (out of pocket fee) unless you're using the point-of-service option.
If you want to use this no out-of-pocket option with TRICARE Prime, you'll have to choose from a list of approved or designated providers. (It's similar to a civilian HMO policy, where you can see only providers who are "in network.") If you live on or near a base, this usually means the local military medical facility.
Obviously, your options are somewhat limited with this plan—especially if you or a family member has special medical needs.
In order to use the no-copay option under Prime, you'll need an official referral to a preferred provider. So, you'll have more paperwork and processing on Prime, but the savings may very well be worth it for your family.
You just have to prepare yourself for a delay in care while you wait for referrals.
If you need immediate, emergency care, you'll have to spend a few seconds thinking about your options before you rush out the door. For example, TRICARE separates "emergency" and "urgent" care, and the coverage requirements are different under the plan. A visit to the emergency room for a life-threatening concern only warrants a post-event call to your program contractor. Alternatively, a visit to urgent care for a non-life-threatening but a serious issue (such as a broken ankle) does require a referral.
TRICARE Standard
TRICARE Standard gives you more options and flexibility in your choices of providers, but it also involves some additional out-of-pocket expenses. You have the option to use a network provider or out-of-network provider, and you won't need to get a referral. However, you may still need authorization for certain services, just as you would with most other insurance plans.
TRICARE Standard can be great if you live on or near a base but don't want to use the local military medical facilities, or someone in your family has special needs. TRICARE Standard's out-of-network option can also come in handy if you live more than 30 miles from a military medical facility and don't want to drive long distances to take your children to the doctor.
You will pay an annual deductible on TRICARE Standard. However, the rates are still very affordable compared to civilian insurance options. For example, for an E4 and below and on active duty or in the Guard/Reserve, your deductible can be $50 per person (but no more than $100 for the whole family). E5 and above can expect $150 per individual (but no more than $300 for the whole family).
You will also be responsible for a percentage or share of certain services. Many preventative services don't require an out-of-pocket fee, however, you can expect to be responsible for anywhere from $25 to 20% of the service charge for other needs.
Making the Right Choice For Your Family
Both plans offer great options for active duty military personnel and their families. Establish your priorities for health care, and consider your long-term needs to help guide your research.
Like any other decision regarding medical care, be sure to communicate directly with your insurance provider to get the most up-to-date information.