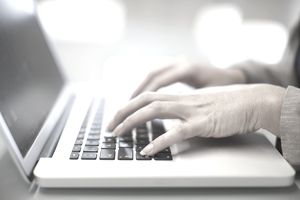 You might not think of a simple thank-you letter as networking, but that single type of communication can pay for future business dealings. After all, networking is about relationship building, and one way to build relationships is through written communication, whether by letter or email. Successful business people use networking to develop an arsenal of business and personal connections that help them grow their businesses or gain new employment.
Ultimately, networking is marketing, whether for yourself or your business. Below, we've gathered a list of networking letter examples you can use to develop your own business relationships. These samples include referral cover letters, informational interviews, letters of introduction, and more,
Tips for Writing a Networking Letter
The most effective networking letters are those that immediately and clearly express your intention in writing to the recipient, whether asking for career advice, introducing an industry colleague, asking for a referral, or expressing your thanks for assistance he or she has provided you.
The initial paragraph needs to come directly to the point (explaining who you are if you have never personally met the recipient) and your reason for reaching out to them. If you can establish a point of connection like a shared contact, this will help to engage the reader's interest.
Your statement should be simple and straightforward, as in the following example:
"My academic advisor for my senior project, Dr. Joan Smith, recommended you as a good person to ask about the work climate at ABC Company. I am writing to see if you would be willing to meet with me, either in person or by telephone, to discuss your impressions of ABC Company as an employer."
In your second paragraph, provide some persuasive context to explain exactly why you are asking for the favor of their time and attention. Consider the following, for instance:
"As a native Seattleite with a passion for computer science, my dream has always been to work for a forward-thinking company like ABC Company. To this end, I have majored in Computer Science at the University of Washington and am now ready to begin assessing potential employers."
Your closing paragraph should thank the recipient for their consideration of your request and let them know how they can reach you. Before sending your letter, whether through email or snail mail, carefully proofread and edit the text to make sure that there are no errors. You should also ensure that the tone and language you have used are professional, as this is a business correspondence.
Referrals and Introductions
Many people find positions through someone they know—or a friend or colleague of someone they know. These letters help you spread the word that you are seeking new employment. A key piece of advice here is to always sound grateful for any help a friend or colleague can provide.
The following example can help you reach out to a potential employer, through a referral or introduction to another party, such as a current employee or other mutual connection.
In this instance, the cover letter was sent through email and referred by a former employee.
Before sending, provide a strong subject title, such as, "Referred by Sloane Greene," and respectfully address the person you are speaking to. At the bottom of the email, send your regards along with your name, email, and phone number so they can contact you further upon consideration.
"I am writing to you in regard to the position of billing manager that you have posted on your company website. I worked with Sloane Greene in the billing department of XYZ Enterprises for several years before taking a hiatus to raise my children.

When I mentioned I was returning to the workforce, she recommended I contact you about this position, as she felt that I would be an excellent fit for your organization.

At XYZ, I worked closely with Sloane to convert our billing system to handle the increase in sales volume the company was experiencing. I oversaw the seamless transition when our deliverables doubled in less than six months. I have successfully managed both small and large billing departments, but am most comfortable in an environment like that at your company. I feel that my experience would be an asset to Bright Enterprises, and would appreciate the opportunity to meet with you regarding the open position.

Thank you for your time and consideration. I look forward to hearing from you."
Similarly, you can use a referral from a colleague. You can do so by requesting one on LinkedIn and more. Find out how by exploring these additional resources:
Thank You Letters
Even if the time spent networking with someone doesn't result in a job, you should still share your thanks for that person's time. In fact, it's a common act of respect to send a written or digital thank you card following a final interview. That is, before discovering the status of the job security. This can help move you along in the hiring process, and even if the job is not secured, your reputation through this act will certainly soar.
As always, include a good subject line, the date, and a respectful way of addressing your contact. Leave the end of your snail mail or email with your regards, name, address, and contact information. A physical letter can provide a surprising and warm touch while an email can give a quick form of communication and respect.
"Thank you for sharing your professional expertise with me during our discussion today. I consider you to be one of my role models in our field, and I am more than grateful for the time you spent reviewing my career objectives and recommending strategies for achieving them.

I especially appreciate your offer to connect me to others in your network. I plan on following up with the contacts you emailed me right away. I have also begun to reach out to local professionals using the online networking resources you recommended to accelerate my job search.

Any additional suggestions you may have would be welcome. I'll let you know how my career search progresses.

Again, thank you so much for your help. I greatly appreciate the assistance you have provided me."
Here are other examples of thank you letters to help with job leads, networking, informational interviews, and more. The following also includes examples that help you share the happy news that you've secured a position and express your appreciation for the referral or job search assistance that helped you get there:
Additional Resources
It's never too early to start networking. Students are encouraged to create polite and enthusiastic communications, as they can earn dividends when searching for a summer internship or full-time job. College career offices often provide counseling and other career services, including referral cover letter examples and peer reviews. Similar to adults, students can request an informational interview by networking with their friends and contacts in their career field.
In fact, informational interviews provide a great way to learn about a new industry or particular organization. An informational meeting must include an introduction, a brief description of skills and experience, and a clear understanding of how the person you are writing to can help you find what you are seeking. The following resources will provide further assistance in this area:
Finally, after a major networking event, it's always a good idea to follow up to solidify the new connections you've made. Follow-up letters should be sent within 24 hours, mention a topic from the event, and offer some type of help before asking for a request.
Writers should keep in mind that the sample letters should help guide personal writing, and should not be used as boilerplate to copy and paste. They should be rewritten to reflect unique circumstances and tone of voice.