U-Haul Work at Home Call Center Jobs
Agents provide customer service, make reservations and offer roadside assistance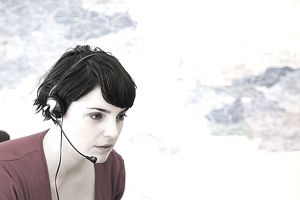 Do-it-yourself moving company U-Haul utilizes both in-office and work-at-home agents hires to provide customer service and roadside assistance as well as to make sales and reservations in the U.S. and Canada. Founded by a Navy veteran, the company makes a point to be military friendly. The company's headquarters are in Phoenix, Arizona, as is its brick-and-mortar call center.
Types of Work-at-Home Positions
In these part-time, and often seasonal, jobs, home-based agents are typically hired to do one of the three types of jobs (customer service, reservations or Roadside assistance), not all.
Most agents work from 25 to 32 hours a week. In Canada, the company hires agents who are bilingual in English and French. 
Some of the work-at-home jobs at U-Haul begin in a contact center and then transition to work-at-home jobs, or they can be both virtual and in-office jobs. In its dual job program, office-based employees can moonlight from home, picking up extra hours from their home offices.
Many jobs are seasonal in nature with the most of the volume in the summer. The hours scheduled are between 7 AM and 8 PM 7 days a week.
Benefits and Pay
Most of U-Haul home-based jobs are part-time. Benefits for part-timers include dental plan, limited medical plan, 401K, stock purchase plan, company discounts and credit union. Full-time employees receive additional benefits such as paid time off and a full medical plan. Customer service jobs, which don't require sales, pay less than sales positions.
Qualifications and Application Process
To find a call center job, go to U-Haul Jobs Contact Center page and click on "Work From Home Opportunities."
Applicants must be 16 or older and have a high school diploma, GED or be enrolled in high school, be legally eligible to work in the U.S. or Canada, and have at least 6 months customer service experience.
They must have good verbal skills, knowledge of United States geography, fluency in the use of instant message technology and Windows PCs and the ability to type 25 words per minute. Reservations and sales positions need previous call center experience.
Agents must provide their computer equipment and headset. A speed test of your DSL or cable internet service is required. However, VOIP phone service is used, so a landline is not needed.
The online application process takes 15 to 45 minutes. You will need to upload a cover letter and resume and have one to three references. The application requires you submit your Social Security number. The company may run a criminal background or credit check and requires a drug screening from employees.
The application asks for basic contact information, allows you to check off various skills and work experience and asks for employment history and education. You then mark the hours you are available to work. The last part of the application includes honestly assessment questions and customer service-related multiple choice questions.