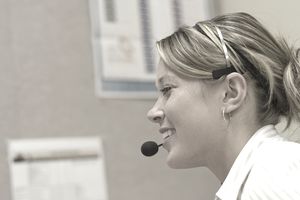 UnitedHealth Group is the largest health insurer in the United States. They offer work-from-home positions and positions that are considered for telecommuting.
Company Description of UnitedHealth Group
Based in Minnetonka, Minnesota, health insurance company UnitedHealthcare Group is a Fortune 500 company (#6 in 2016) with 200,000 employees. It faces challenges in the changing health care insurance environment, including losses in state individual insurance marketplaces under the Affordable Care Act. They have health services platforms including Optum and OptumRX, plus mail-order prescription drug distribution agreements with Walgreens.
Types of Work-at-Home Positions with UnitedHealth Group
More than 20 percent of this large health insurance company's employees take advantage of its telecommuting opportunities. UnitedHealth Group hires registered nurses for telecommuting positions as well as others with experience in the insurance industry. Many of the work-at-home nurse positions involve seeing patients in their homes but some are telephone-based positions.
Non-nursing positions that may be telecommuting jobs include contract managers, Medicaid specialists, auditors, analysts, consultants and medical coders. Experienced information technology professionals may also find telecommuting jobs for business process analysts, data analysts, and applications developers.
Examples of IT professionals include a medical coder telecommuter position; qualifications include being a Certified Coder or licensed RN/LVN/LPN and requires working for the Optum company, part of UnitedHealth Group. The job may begin training in a service center environment before telecommuting is approved.
A TRICARE Behavioral Health Utilization Manager is a work-from-home telecommuter position for a licensed professional in mental health, including an LCSW, LMFT or RN with behavioral health experience. The job entails reviewing cases, discharge planning, consulting with clinicians, and assisting in developing treatment plans.
Network Contractor: develops contracts with skilled nursing facilities, hospitals, physicians, pharmacies, and ancillary providers.
Clinical Consultant: a licensed Pharmacist telecommuting position, working with clients and managing ongoing contract relationships and pharmacy benefit analysis.
Using UnitedHealthcare's Employment Page
Go to the UnitedHealth Group Website. Enter "Telecommute" in the search box for Keyword, job title, or job number or you can look down the left side for the Telecommute Position options where you can select Yes to see only telecommuter or telecommute considered positions. You can also search by location, job field, job level, posting date, business unit, scheduled (full-time or part-time), shift and travel.
You can begin the application process online. It takes at least 30 to 45 minutes to complete the application and you must upload a current copy of your resume tailored to the position you are applying for. There are then qualifying questions and possibly assessment testing. After an application review, you may be contacted for an interview. Interviews may be done in person, on the telephone or via video.
For more profiles of companies that hire nurses (and others with medical backgrounds) to work from home, click on the links below.