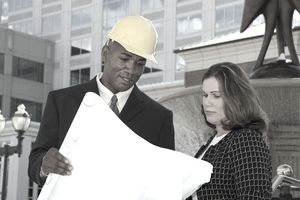 Job Description
An urban planner or regional planner, sometimes called a city planner, helps a community decide how to best use its land and resources with an eye toward future growth and revitalization. He or she usually works for a local government. An urban planner or regional planner recommends locations for roads, schools and other infrastructure in order to help local officials solve social, economic and environmental problems.
Employment Facts
There were 38,000 urban planners and regional planners employed in 2008.
Educational Requirements
To work as an urban planner or regional planner one generally needs a master's degree in urban or regional planning from a program accredited by the Planning Accreditation Board. A master's degree in a related field, for example urban design or geography, may be accepted as well. To prepare for entry into an accredited master's degree program, one should consider earning an bachelor's degree in economics, geography, political science or environmental design.
Why Do You Need to Know About Educational Requirements?
Other Requirements
In addition to the technical skills you will learn in school, certain soft skills or personal qualities will help you succeed in your career. An urban planner or region planner must be flexible and have strong spatial relations and communication skills.
Certification, which the American Institute of Certified Planners grants based on education, work experience and an exam, can help with career advancement.
Advancement
With experience, an urban planner or regional planner will have the opportunity to work on projects that require more independent judgement.
Eventually, an urban planner or regional planner may be promoted to community planning director, which will give him or her greater responsibilities including supervising a staff. Some experienced urban and regional planners transfer to jobs in larger jurisdictions.
Why Do You Need to Know About Advancement?
Job Outlook
The US Bureau of Labor Statistics predicts that demand for urban and regional planners will be excellent over the next several years. This field is expected to grow faster than the average for all occupations through 2018.
Why Do You Need to Know About Job Outlook?
Earnings
Urban planners and regional planners earned a median annual salary of $61,820 in 2009.
Use the Salary Wizard at Salary.com to find out how much an urban planner or regional planner currently earns in your city.
A Day in an Urban Planner's and Regional Planner's Life
On a typical day an urban planner's or regional planner's tasks might include:
Designing, promoting and administering government plans and policies affecting land use, zoning, public utilities, community facilities, housing and transportation.
Holding public meetings and conferring with government, social scientists, lawyers, developers, the public and special interest groups to formulate and develop land use or community plans.
Recommending approval, denial or conditional approval of proposals.
Determining the effects of regulatory limitations on projects.
Assessing the feasibility of proposals and identifying necessary changes.
Sources:
Bureau of Labor Statistics, US Department of Labor, Occupational Outlook Handbook, 2010-11 Edition, Urban and Regional Planners, on the Internet at http://www.bls.gov/ooh/life-physical-and-social-science/urban-and-regional-planners.htm​ (visited December 8, 2010).
Employment and Training Administration, US Department of Labor, O*NET Online, Urban Planner and Regional Planner Planners, on the Internet at http://online.onetcenter.org/link/summary/19-3051.00 (visited December 10, 2010).