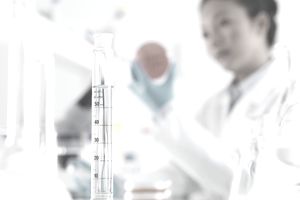 Veterinary pathologists are responsible for studying and diagnosing animal diseases through the examination of body tissues and fluids.
Duties
Veterinary pathologists are veterinarians (DVMs) that specialize in the diagnosis of animal diseases. Primary responsibilities may include examining animal tissues and fluids, performing biopsies or necropsies, determining the cause of disease through observation and laboratory analysis, utilizing microscopes and other specialized pieces of laboratory equipment, and advising veterinarians in the field about the diseases they detect in sample tissues or fluids.
Veterinary pathologists may also contribute to the development of drugs and other animal health products, conduct scientific research studies, and advise government agencies as to the spread and progression of various animal diseases that may affect herd health.
Career Options
Veterinary pathologists usually specialize by working in either anatomical veterinary pathology or clinical veterinary pathology. Anatomical veterinary pathologists diagnose diseases based on examination of organs, tissues, and bodies. Clinical veterinary pathologists diagnose diseases based on laboratory analysis of bodily fluids (such as urine or blood).
Further specialization is possible for those who pursue doctorate degrees in molecular biology, toxicology, and other pathology related fields. Some pathologists choose to focus on just one particular type of animal (for example, there is an American Association of Avian Pathologists).
Veterinary pathologists may find employment with many organizations including veterinary hospitals, colleges and universities, government agencies, research laboratories, pharmaceutical companies, and diagnostic laboratories.
According to the American College of Veterinary Pathology, 44 percent of veterinary pathology diplomats work in private industry, 33 percent work in academia, and the remaining 33 percent work with government agencies or other private employers.
Of those working in private industry, nearly 60 percent are employed by pharmaceutical companies.
Education & Training
Veterinary pathologists must complete a Doctor of Veterinary Medicine degree before pursuing a multi-year residency which provides additional specialty training.  The path to board certification requires three years of additional training after the basic DVM degree. Those pursuing a Ph.D. degree in the field must complete even more training. The final step in the process is passing a rigorous board certification exam.  Continuing education credits must be completed annually to maintain certification status.
The American College of Veterinary Pathologists (ACVP) administers the certifying exam for veterinary pathology in the United States. As of 2014, the ACVP boasted 1,676 diplomates (1,342 in anatomical pathology and 332 in clinical pathology). The European College of Veterinary Pathologists (ECVP) administers the certifying exam for veterinary pathology in Europe. The ECVP lists over 250 diplomats in its membership materials.
The ACVP also provides scholarship opportunities and maintains a listing of externships that are designed to help aspiring veterinary pathologists gain the necessary experience to enter the field.
United States-based externships are available at many top facilities including Johns Hopkins, MIT, Purdue University, Texas A&M, Emory University, Wake Forest, the National Institute of Health, the National Fish and Wildlife Forensics Lab, SeaWorld, the Smithsonian National Zoo, and much more.
Salary
Veterinary pathologists working in industrial fields (especially in pharmaceutical drug development) tend to earn top dollar. A 2006 salary survey by the ACVP found that in the Northeast region of the U.S., a veterinary pathologist working in the industry could expect to earn a median of $130,000 to $140,000 per year immediately after completing their training. In the same region, a newly trained veterinary pathologist working in academia could only expect to earn a median of $70,000 to $80,000 per year.
With more than five years of experience post-training, veterinary pathologists in the Northeast U.S. working in industrial fields could expect to earn a median salary in the range of $170,000 to $180,000 or more. An academic pathologist with the same level of experience could expect to earn a median salary in the range of $130,000 to $140,000 per year.
A 2011 salary survey conducted by the American Veterinary Medical Association found that the median salary for veterinary pathologists was $157,000. The mean salary for veterinary pathologists was $171,830.
Career Outlook
The Bureau of Labor Statistics (BLS) does not separate the specialty of veterinary pathology from data for all veterinary careers, but it does project a positive outlook for those pursuing a career in any veterinary related career. The veterinary profession is expected to grow at about the average rate for all professions surveyed over the decade from 2012 to 2022.  There should be solid job prospects for those able to gain entrance to a veterinary school and graduate successfully with a DVM degree.
The limited number of veterinary pathology residences combined with the rigorous nature of pathology training programs and board certification exams should translate to continued demand for qualified professionals in this specialty animal health career.