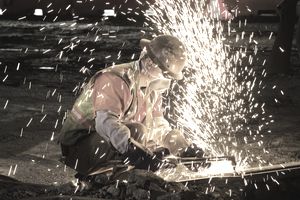 If you're a welder looking for work, you can stand out from the crowd by knowing the right qualifications to list on a resume, cover letter or during a job interview. Find out which abilities employers seek in the candidates they hire for welder jobs, with this overview of high-demand qualifications.
You should keep in mind, however, that skills will vary based on the position for which you're applying. Given this, you may also want to review this list of skills by job and type of skill.
Top Skills Welders Need
Mathematical Skills
Since math skills help welders perform tasks more effectively, they can help job candidates stand out. You'll need to be able to calculate the dimensions to be welded, read blueprints and interpret sketches. Math will also come in handy when you cut and trim metal objects to specific dimensions.
Attention to Detail
Good welders need to pay attention to details. Specifically, they should have the discernment to evaluate equipment for purchase. They'll need to clean grease or corrosion from parts and chip out holes, bubbles and cracks prior to welding. Inspecting structures to be welded are also part of the job and the reason why attention to detail is so important. Welders should generally maintain a clean work area.
Physical Abilities
Your physical abilities can help make you more attractive to employers. Specifically, you'll need to be able to bend, twist and stoop and dismantle large objects such as automobiles and aircraft. Welders also need excellent close vision skills and depth perception. Lifting considerable weight, manual dexterity, and steady hands are also among the physical abilities you should have. 
Fortitude
Welders need fortitude. Why? They often work in adverse conditions. They also need to be able to meet deadlines, work independently and in a team, when necessary. Troubleshooting is a big part of the job as well. 
Administrative Tasks
Welding is a physical job, but administrative tasks are part of the profession as well. Welders need to be able to document their work, have good organizational skills and conduct inventory of supplies and order them, when necessary. Welders also need to be able to plan projects.
Tools and Tasks Welders Should Be Able to Handle
Welders should be able to clamp broken metal pieces together and melt and apply solder along adjoining edges of work pieces. They should also be able to monitor the quality of welds and components, repair leaks, select and use grinders and other metal finishers. Moreover, welders should be able to set up fixtures and machine tools and test coils for air leaks.
In addition, welders should be able to use lifting and control devices, soldering irons, fillet and butt weld gauges and hand tools. Welders should know how to operate a brazing torch, robotic welding equipment and have proficiency with air carbon arc gouging.
Given that technology is constantly changing, it's important that welders learn the new technology necessary to help them effectively do their jobs. It's equally important that welders abide by safety standards to prevent themselves or others from getting hurt.
List of Welder Skills
Attention to Detail
Bending, Twisting and Stooping 
Calculating Dimensions to be Welded
Chipping Out Holes, Bubbles and Cracks Prior to Welding
Clamping Broken Metal Pieces Together
Cleaning Grease or Corrosion from Parts 
Cleaning Work Area
Cutting and Trimming Metal Objects to Specific Dimensions
Dismantling Large Objects Like Automobiles and Aircraft
Documenting Work
Evaluating Equipment for Purchase
Excellent Close Vision and Depth Perception
Following Directions
Inspecting Structures to be Welded
Interpreting Sketches
Inventorying Supplies
Learning New Technology
Lifting Considerable Weight
Maintaining Welding Equipment
Manual Dexterity
Mathematical
Meeting Deadlines
Melting and Applying Solder Along Adjoining Edges of Work Pieces
Monitoring the Quality of Welds and Components
Operating a Brazing Torch
Operating Robotic Welding Equipment
Ordering New Supplies
Organizational
Planning Projects
Prioritizing
Proficiency with Air Carbon Arc Gouging
Reading Blue Prints
Reliability
Repairing Leaks
Selecting and Using Grinders and other Metal Finishers
Setting Up Fixtures
Setting Up Machine Tools
Steady Hands
Strictly Abiding by Safety Standards
Tacking Components
Teamwork
Testing Coils for Air Leaks
Time Management
Troubleshooting
Using Lifting and Control Devices
Utilizing a Soldering Iron 
Utilizing Fillet and Butt Weld Gauges
Utilizing Hand Tools
Verbal Communication
Working in Adverse Conditions
Working Independently