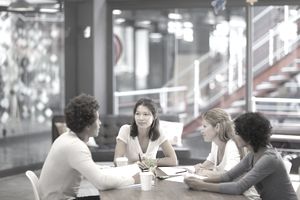 A typical interview question that's asked to determine what you are looking for in your next job, and whether you would be a good fit for the position being hired for, is, "What challenges are you looking for in a position?"
This question can be a way to show how you are qualified for the job. You can also use it to demonstrate that you are motivated by challenges, and can handle difficult tasks.
Read below for advice for answering the question, "What challenges are you looking for in a position?" Also read below for sample answers.
How to Answer Questions About Challenges
Demonstrate your skills. One good way to answer questions about the challenges you are seeking is to discuss how you would like to be able to utilize your skills and experience effectively if you were hired for the job. For example, you might say, "I recently got my certificate in XXXX, and I look forward to applying those skills," or "I've been polishing my presentation skills, and I look forward to crafting compelling ones for your department." This question can be a great way to point out particular skills and qualities that you have.
Express motivation. You can also mention that you are motivated by challenges, have the ability to effectively meet challenges, and have the flexibility and skills necessary to handle a challenging job. For example, you might say, "I'm motivated when there is a challenging deadline. I dive right in so the job is done with time to spare to polish the project." This answer demonstrates your organizational and time management skills.
It also shows the employer that you can handle tight deadlines.
Connect your answer to the job. Whether you use your answer to demonstrate your skills or to express that you are motivated by challenges, connect your answer to the requirements of the job. Focus on types of challenges that you will be given on the job, and demonstrate your ability to handle them well.
To help prepare an answer to this question, look back at the job listing, circling skills and experiences that are necessary for the job. In your answer, focus on those that you are most passionate about, and/or have the most experience with.
Use examples. You can continue by describing specific examples of challenges you have met and goals you have achieved in the past. For example, after saying you are motivated by a challenging deadline, you can give an example of a time you used your time management skills to complete a project ahead of time.
Example of the Best Answers
In my last job, I took on many additional responsibilities over the years, including editing company webpages on the office's content management system. I look forward to using my web editing and publishing skills in this position. 
 
I know your organization emphasizes setting high goals for each team, and I look forward to being a part of a team that aims high. I have a lot of experience with teamwork and working on big projects with tight deadlines. My ability to work well in a team, and to manage my time, will make me a strong team member in this environment. 
 
I thrive on the challenge of working on multiple projects at once. At my last job, I often worked on up to three projects at a time, often with overlapping deadlines. I never missed a deadline. I do some of my best work when I am able to work on multiple tasks at once. 
 
I know the position requires dealing with customer issues and I am motivated to ensure our customers have all of their problems resolved. I have past success with customer service: I filled in on the customer service complaint desk for six months when they were having a high volume of calls and an employee was on leave. During that time, I received 98% positive customer ratings.
More Job Interview Questions and Answers
Here are more common interview questions that you'll be asked, along with sample answers and tips on how to respond.
Interview Questions and Answers
Typical job interview questions and sample answers.
Interview Questions to Ask
Questions for candidates for employment to ask the interviewer.
Read More: How Did You Handle Challenges in Your Last Position? | More Interview Questions About You | Common Interview Questions