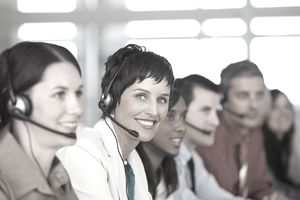 According to infoplease, there are about 6,500 spoken languages in the world (How Many Spoken Languages Are There? infoplease). As the professionals responsible for converting information from one language to another, interpreters and translators have their work cut out for them. Interpreters work with spoken language as well as sign language while translators' purview is the written word. To convert information from one language (the source) to another (the target), these professionals must use their knowledge of the languages, cultures and subject matter.
Quick Facts
In 2014, translators and interpreters earned a median annual salary of $43,590 and median hourly wages of $20.96.
Approximately 64,000 people worked in this field in 2012.
Interpreters usually work in hospitals, schools and courtrooms.
Translators often work from home.
20% of people in this field are self-employed.
Jobs are usually full time, and most people work during regular business hours.
The U.S. Bureau of Labor Statistics (BLS) classifies this as a "Bright Outlook" occupation because employment is expected to grow much faster than the average through 2024.
According to the BLS, demand will be high for people who can translate French, German, Portuguese, Russian, Spanish, Chinese, Japanese, Hindi, Korean, as well as Arabic and other Middle Eastern languages. There will also be a big call for sign language interpreters (Interpreters and Translators. Occupational Outlook Handbook 2014-15).
How to Become a Translator or Interpreter
To become a translator or interpreter in the United States, you must be fluent in English and another language. A bachelor's degree isn't a strict requirement but most employers prefer job candidates who have one. You don't have to major in a foreign language, however.
Majoring in another field of study may, in fact, prove to be valuable as it will give you an area of expertise others do not have.
You will need training in translating and interpreting, which is available from colleges and universities, and other training programs. If you want to work in a hospital or a courtroom, you will need specialized training.
Licensing requirements vary by state.  See the Licensed Occupations Tool from CareerOneStop to learn about the requirements in the state in which you want to work. The Administrative Office of the United States Courts certifies Federal Court Interpreters. Individual states certify interpreters who work for state courts.
Several organizations offer certification for translators and interpreters, but getting it is strictly voluntary. It can prove your proficiency and, in turn, this makes you a more competitive job candidate. Some of the organizations that offer certification are The American Translators Association, AIIC (International Association of Conference Interpreters) and the National Association of the Deaf.
What Soft Skills Do You Need to Succeed in This Career?
In addition to your technical skills, you will need certain soft skills, or personal characteristics, to succeed in this occupation.
Active Listening: To accurately interpret speakers' words, you must be able to understand them.
Verbal Communication: The ability to speak clearly is extremely important when you are interpreting.
Reading Comprehension: You must be able to understand written documents if you are to translate them accurately.
Writing: You need strong writing skills in the language to which you are translating.

Cultural Sensitivity: In addition to proficiency in the languages you are interpreting and translating, you must have a good understanding of the cultures of the people who speak them. 
The Truth About Being a Translator or Interpreter
Interpreting in real-time can be stressful because you will have to keep up with the speaker.
They often face tight deadlines.
Translators and interpreters who are self-employed may face long periods without work and have other times when they are very busy.
What Will Employers Expect From You?
Here are some requirements from actual job announcements found on Indeed.com:
"Translator must be well-versed in logistics and products description terms in Spanish and English, and familiar with relevant idioms in both languages."
"Ability to work independently on multiple projects"
"Demonstrates competency in detail work and accuracy"
"Clearly articulate/communicate via email, phone calls and video teleconference"
"Experience living in another country"
"Ability to work cooperatively and collaboratively in a team environment"
Is This Occupation a Good Fit for You?
Related Occupations
 
Description
Median Annual Wage (2014)
Minimum Required Education/Training
Writer or Editor
Writers produce, and editors select, content for print and online media, as well as tv, radio and movies.

$58,850 (Writer)

$54,890 (Editor)

Some employers require a college degree
Announcer
Makes announcements over public address systems
$25,730
H.S. Diploma
Public Relations Specialist
Spreads companies' and organizations' messages to the public
$55,680
Bachelor's Degree
Additional Sources:
Bureau of Labor Statistics, U.S. Department of Labor, Occupational Outlook Handbook, 2014-15 (visited December 17, 2015).
Employment and Training Administration, U.S. Department of Labor, O*NET Online (visited December 17, 2015).