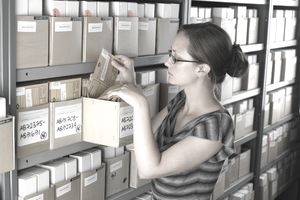 An archivist appraises records and documents to determine their importance or potential value to the organization for which he or she works. He or she then preserves and catalogs these materials so people can access them in the future. Most archivists have expertise in a particular document type, for example, manuscripts, photographs, maps, websites, films and sound recordings. Some specialize in a specific area of history.
An archivist also provides outreach to the public, coordinating facility tours, lectures, classes and workshops.
Quick Facts
Archivists earned a median annual salary of $49,120 in 2014.
There were almost 6,000 archivists employed in 2012.
Most worked for museums, colleges and universities, and government agencies. Corporations and other institutions employed others.
The job outlook for this occupation is good. The U.S. Bureau of Labor Statistics expects it to grow about as fast as the average for all occupations through 2024.
A Day in an Archivist's Life
If you decide to become an archivist, what can you expect to do? With this question in mind, we looked at some typical job duties taken from online ads on Indeed.com:
"Facilitates acquisition, preservation, arrangement, description, and access to born-digital materials"
"Create heritage research files relevant to business objectives"
"Assist staff, researchers, and interns interested in accessing the Archives"
"Appraise the materials, determine preservation and conservation issues, and determine best practice for resolving issues"
"Complete organization, preservation and description of the collection"
"Teach archival instruction sessions, create exhibits, and engage in other outreach activities"
"Maintain and update archival database"
How to Become an Archivist
To work as an archivist, you will likely need a master's degree in history, library science, archival science or records management with coursework in archival techniques. To work with special collections, you will need knowledge of that specialty or industry.
An archivist may, if desired, receive voluntary certification from the Academy of Certified Archivists. To become a Certified Archivist you will need a master's degree and a year of experience, and have to pass a written exam.
What Soft Skills Do You Need to Succeed in This Career?
In addition to the hard, or technical, skills one acquires while earning his or her degree, success in this occupation depends on having certain soft skills.
Analytical Skills: This ability will allow you to assess material to decide which items to preserve.
Organizational Skills: As an archivist, you will use your organizational skills to develop systems for storing materials and making them available to the public.
Interpersonal Skills: Your ability to listen and verbally communicate, in addition to decipher body language and instruct people, will facilitate your interactions with the public.
Reading Comprehension: You must be able to understand written documents.
What Will Employers Expect From You?
Here are some requirements from actual job announcements found on Indeed.com:
"Familiarity with data protection and Freedom of Information legislation"
"Ability to work as part of a team"
"Computer literacy (including use of database and other electronic document management tools, word processing, and e-mail)"
"Exceptional written, communication, and presentation skills"
"Ability to work under time constraints and to meet regularly recurring deadlines on multiple, concurrent projects"
Is This Occupation a Good Fit for You?
Holland Code: CIS (Conventional, Investigative, Social)
MBTI Personality Types: INTJ, ISTJ (Tieger, Paul D., Barron, Barbara, and Tieger, Kelly. (2014) Do What You Are. NY: Hatchette Book Group.)
Related Occupations
|   | Description | Median Annual Wage (2014) | Minimum Required Education/Training |
| --- | --- | --- | --- |
| Librarian | Helps people locate and use information in a public, school, university or special library | $56,170 | Master's degree in library science |
| Curator | Oversees a museum's collections  | $51,280 | Master's degree in art history, history or museum studies |
| Museum Technician | Prepares items for display in a museum | $39,940 | Bachelor's degree in museum studies, archaeology, history or art history |
| Historian | Studies historical documents and sources | $55,870 | Master's degree or Ph.D. in history or a related field |
Sources:
Bureau of Labor Statistics, U.S. Department of Labor, Occupational Outlook Handbook, 2016-17 (visited January 11, 2016).
Employment and Training Administration, U.S. Department of Labor, O*NET Online (visited January 11, 2016).