What Interpersonal Skills Do You Need at Work?
Learn About This Important Soft Skill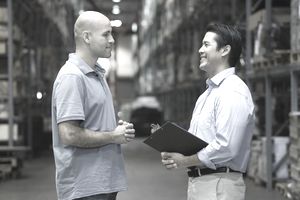 What Are Interpersonal Skills?
Interpersonal skills are a set of soft skills that facilitates our interactions with other human beings. They are sometimes called "people skills." At their foundation are verbal communication and listening skills, but the ability to convey information clearly and understand what others are telling you are not enough.  
Social skills are also part of this skill set. This includes being able to decipher body language, negotiate, persuade, instruct and coordinate your actions with those of other people.
You must be able to sympathize and empathize, as well as know when something you want to say will unnecessarily offend someone.
How Can You Develop This Skill?
You may think you only need interpersonal skills if your job involves helping other people, persuading them to do or buy something, or managing them. As long as you interact with people in any capacity—that could mean simply working side-by-side with them—you need to have interpersonal skills. They can help you succeed in your career, whatever it may be. 
They will help you get along with our coworkers and bosses, serve your clients and customers (or patients), function as members of teams, take direction from your superiors and lead your subordinates. You must be willing to listen to people without judgement, work with people from diverse backgrounds, share ideas with colleagues and offer your help when others need it.
Not everyone is born with good interpersonal skills.
Fortunately, you can do things to improve yours. Put yourself in situations where you have to interact with other people. The more you do that, the better you will become at it. You can join school organizations if you are a student or community organizations if you've already graduated. Practice listening and talking to others, and observe their responses.
Volunteer to help on projects. Do an internship or get a part-time job while you are still in school. You will learn how to deal with customers and coworkers.
Careers That Require Strong Interpersonal Skills
While good interpersonal skills can benefit you regardless of what career you are in, there are some occupations that absolutely require this skill set. Let's take a look at some of them:
Clergy: Members of the clergy, in addition to conducting religious services and leading religious education programs, provide spiritual guidance to their congregants.
Marketing Manager: Marketing managers direct teams that develop companies' marketing strategies.
Human Resources Specialist: After identifying their employers' needs, human resources specialists help find job candidates who are likely to meet them.
Special Agent: Special agents determine whether there have been violations of local, state or federal laws. They gather evidence and interview suspects, victims and witnesses.
Chef and Head Cook: Chefs and head cooks, in addition to preparing food, oversee the running of dining establishments. This job includes supervising other culinary workers.
Dentist: Dentists first diagnose and then treat any problems they find with patients' teeth and mouth tissue.